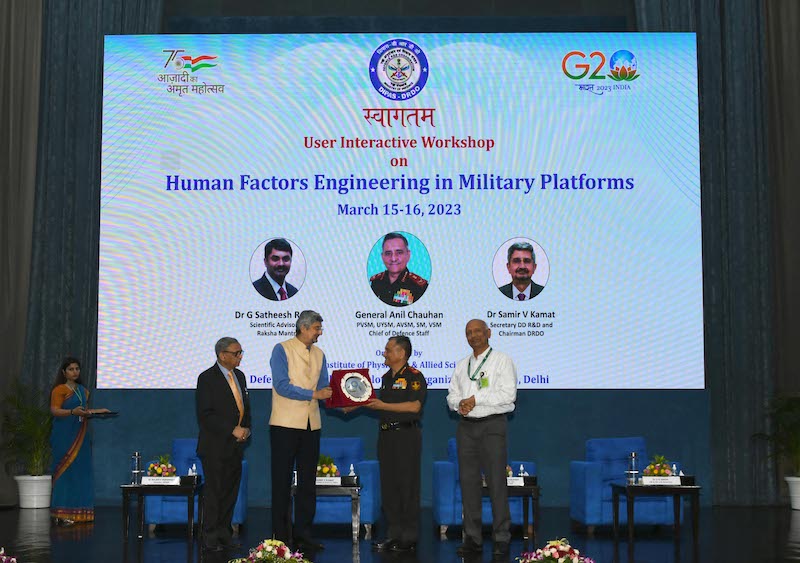 CDS Gen Anil Chauhan (2R) during the inauguration of the workshop. (Photo: Defence ministry)
New Delhi: The chief of defence staff, General Anil Chauhan, inaugurated a two-day workshop on "Human Factors Engineering in Military Platforms" in the national capital, on Wednesday. The workshop has been organized by the Defence Research and Development Organization's Delhi-based laboratory Defence Institute of Physiology and Allied Sciences.
In a media release, the defence ministry said the workshop's objective is to evolve a policy framework and practices to ensure scientific implementation of "human factors" engineering (HFE) in the defence sector, thereby giving a push to the government's vision of "Atmanirbhar Bharat" (self-reliant India). The HFE is a science concerned with the design of tools and systems by considering human capabilities and limitations for safe and effective use.
Speaking on the occasion, the CDS stressed on the need for incorporation of the HFE right at the stage of qualitative requirements and designs to make indigenous weapons suitable for soldiers. He called for creating a synergistic approach and policy framework for the implementation of the HFE through the involvement of Integrated Defence Staff taking into consideration both long drawn battles and short duration special operations.
---