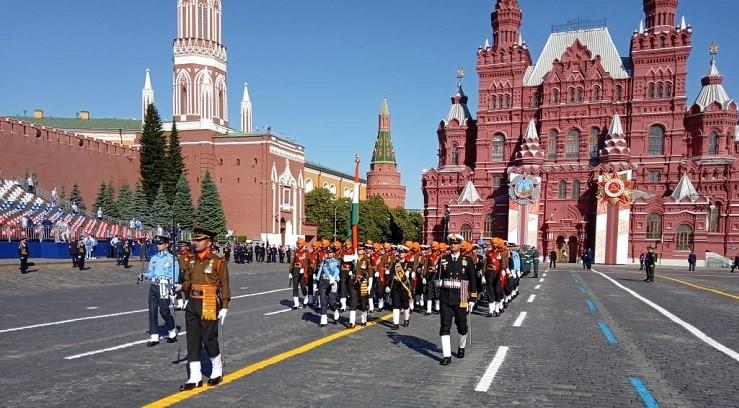 New Delhi: Prime Minister Narendra Modi will be assisted by a woman officer of the Indian Army while he unfurls the national flag on Saturday during the 74th Independence Day celebration at the Red Fort.
The information regarding the same was shared in a curtain raiser issued by the Defence Ministry.
The flag officer Major Shweta Pandey is an EME (electronics and mechanical engineers) officer from the Indian Army's 505 base workshop.
Women officers have carried out such roles in the past and even led marching contingents during the Republic Day parade.
Major Shweta Pandey had earlier this year carried the Tricolour and led an Indian military contingent at the Victory Day Parade in Moscow in June. The event was also attended by defence minister Rajnath Singh.
Major Pandey, a resident of Lucknow, was commissioned into service in March 2012 from officers training academy, Chennai. Her Father Mr Raj Ratan Pandey served as additional director,finance, in UP government and her mother Mrs Amita Pandey is a Sanskrit and Hindi professor.
Major Shweta is B Tech in computer science with 1st division and honours.
She has won over 75 medals and 250 certificates in various National and international events such as speeches, debates, extempore,etc during her school and college days. In the academy, she won the Garhwal Rifles medal for topping in tactics.
The unfurling of the flag will synchronise with a 21-gun salute fired by gunners of the 2233 Field Battery (ceremonial), ministry said. The PM will deliver his address to the nation after unfurling the flag.
Before that defence minister Rajnath Singh and defence secretary Ajay Kumar will receive the PM at 7.18 am in front of Lahore Gate of Red Fort.
The defence secretary will introduce Lieutenant General Vijay Kumar Mishra, General Officer Commanding, Delhi Area, to the PM.
Lt Gen Mishra will then conduct him to the saluting base where a combined inter-services and police guards will present a general salute to the PM who will then inspect the Guard of Honour.
The Guard of Honour contingent for the PM will consist of one officer and 24 men each from the army, navy, air force and Delhi Police, the ministry statement said.
After inspecting the Guard of Honour, the PM will proceed to the ramparts of the Red Fort where he will be greeted by Rajnath Singh and the top military brass. The GOC Delhi area will then conduct the PM to the dais on the rampart to unfurl the national flag.
---