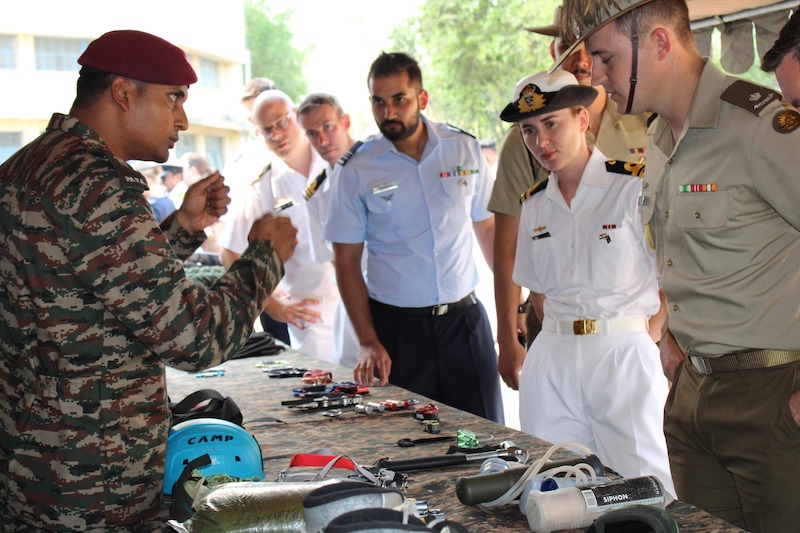 Australian officers at the Shatrujeet Brigade visit in Agra. (Photo: Indian Army)
Agra: As part of the General Bipin Rawat Australia-India Young Defence Officers' Exchange Programme instituted in honour of India's first chief of defence staff, a 15-member Australian contingent, including four female officers from the Royal Australian Navy, Australian Army and Royal Australian Air Force visited the Agra-based Indian Army's Parachute Regiment's Shatrujeet Brigade along with 15 selected officers from the Indian Army, Indian Navy, and the Indian Air Force, on Thursday
Both the Indian officers and their Australian counterparts were taken through a series of training demonstrations related to fighting in built-up areas by the paratroopers of the elite brigade during the visit.
---
Read also: Australian military officers visiting India under programme named after Gen Rawat
---
In a statement, the Army said the exchange programme has given young officers, who are the cutting edge of the armed forces of both the countries, unique exposure to foster defence ties and cooperation between them by understanding each other's cultural and professional aspects.
Later in the day, the officers interacted with the paratroopers of Shatrujeet Brigade to understand the unique role of the strategic airborne formation of Indian armed forces.
---
Read also: Where Paras Dare – The untold story of Op Cactus
---
The visit to India by the Australian military delegation is another example of the building momentum between Australia and India as comprehensive strategic partners. The defence establishment views this exchange programme as a reflection of the shared vision of both the nations to enhance bilateral defence ties, cooperation, and collaboration through strong people-to-people links.
---