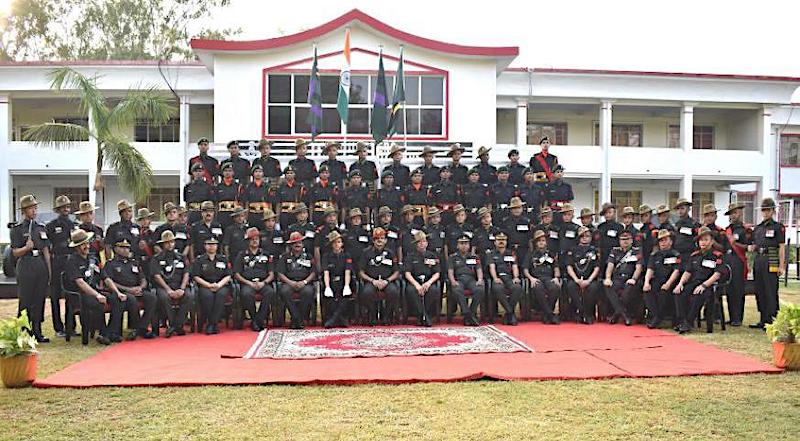 Newly attested Gorkha Agniveer soldiers pose with senior officers after taking oath. (File photo)
New Delhi: In what is seen as a major shift in policy triggered by personnel shortage, the armed forces are mulling to permanently retain 50 per cent of the Agniveer soldiers recruited under the Agnipath scheme. Earlier, the scheme capped the absorption of the Agniveers to 25 per cent after they completed their four-year initial contract in their respective services.
According to sources in the defence establishment, a proposal towards this is being worked out at this moment.
---
Read also: First Agniveer batch attested in various Army regiments
---
The sources told reporters that among the reasons that pushed the services – Indian Army, Indian Navy, and Indian Air Force – towards raising the absorption cap from 25 to 50 per cent was the drop in numbers of personnel at the soldier level due to the fixed number of recruitments planned until 2026. Currently, every year, around 60,000 soldiers retire every year from the services. This is apart from the deficit in the number of personnel created by the Covid-19 pandemic when all recruitment in the armed forces were stopped for two years.
Talking to reporters, a defence official said: "This suggestion has been put forward and is likely to be considered because it is the need of the hour. While a significant number of personnel retire each year, the joining rate (of new soldiers) has been irregular, particularly during the years affected by the Covid-19 pandemic. This step aims to fulfil required numbers."
---
Read also Delhi HC dismisses all pleas challenging Agnipath scheme
---
The forces are also faced with another issue, for which the armed forces are mulling to raise the age limit of eligible candidates for technical streams, like aviation, engineering, electronics, and similar trades, which the forces are finding in short supply.
Elaborating on this, the official said, "The cap of 21 years in the maximum recruitment is leaving a small pool of eligible candidates to pick from. Therefore, the proposal is to raise the cap to 23 years so that we can get the youth passing out of polytechnic institutions."
He further said, "By 2026, around 1.75 lakh Agniveers are expected to be recruited. The aim of the proposals is to make up for the decline in a planned manner. Otherwise, it might turn into a bigger problem – functional and operational."
---