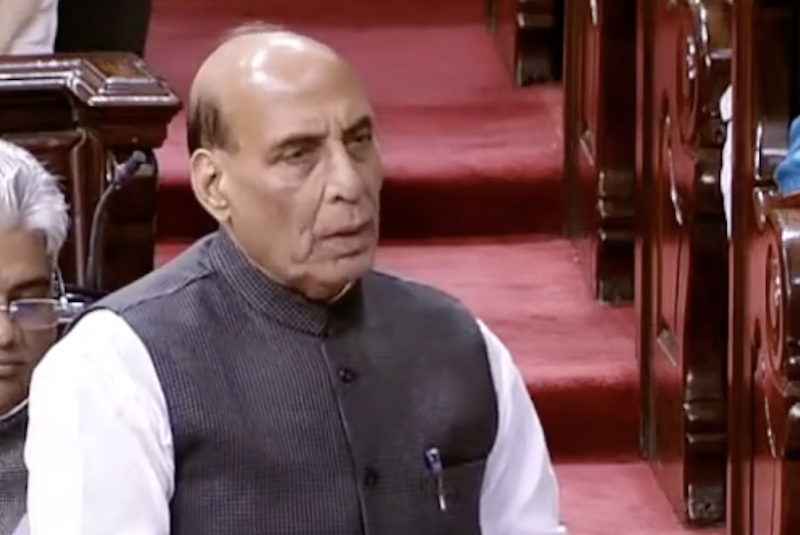 Rajnath Singh briefing Parliament on the Indian Army-PLA clash in Arunachal Pradesh.
New Delhi: The defence minister, Rajnath Singh, briefed Parliament on the December 9 clash between Indian Army troops and China's People's Liberation Army troops at a point near the line of actual control (LAC) at the Yangtse area in Arunachal Pradesh's Tawang sector, on Tuesday. The fists-and-clubs clash left several soldiers on both sides injured.
Briefing the House, Singh said, "On December 9, China's PLA troops encroached into (Indian side of) the LAC at Yangtse, Tawang sector and attempted to change the status quo (on the ground). Indian troops tackled them in a determined manner and bravely stopped them from encroaching our territory and forced them to return to their posts."
On soldiers' injuries, Singh said, "A few soldiers from both sides suffered injuries. I would like to tell this House that none of our soldiers died or suffered any serious injury." He then added, "Due to the timely intervention of Indian military commanders, PLA troops retreated to their own posts."
Singh further said, "After this incident, on December 11, the local commander of the area held a flag meeting with his Chinese counterpart under the established mechanisms and held discussions on the issue. The Chinese side was asked to refrain from such action (in the future) and maintain peace and tranquillity along the border. The issue has also been raised before China at the diplomatic level."
Assuring the House of India's military preparedness, Singh said, "Our forces are committed to protecting our territorial integrity and will continue to thwart any attempt made to undermine it. I am confident that this entire House will stand united in supporting our soldiers in their brave effort."
Rajnath holds high-level meeting on LAC clash
Earlier in the day, the defence minister held a high-level meeting with the foreign minister, S Jaishankar; the national security advisor, Ajit Doval; the chief of defence staff, Anil Chauhan, and all three services chiefs at his residence to discuss the December 9 Indian Army-PLA LAC clash at his residence.
Opposition demands action
As the news on the LAC clash in Yangtse area in Arunachal Pradesh's Tawang sector started coming out, the opposition demanded strong action from the government and asked the government to brief Parliament on this matter. The Congress and the TMC gave a suspension of business notice under Rule 267 to discuss the issue.
Priyanka Chaturvedi, Shiv Sena MP (Uddhav Thackeray faction), also gave notice in Rajya Sabha for a short discussion on the issue.
Taking a jibe at the government, the Congress president, Malliarjun Kharge said the Prime Minister Narendra Modi-led government should be "honest". He tweeted that his party is with the nation on "issues of national security" and "would not like to politicize it." He also demanded a Parliament discussion on this issue.
---