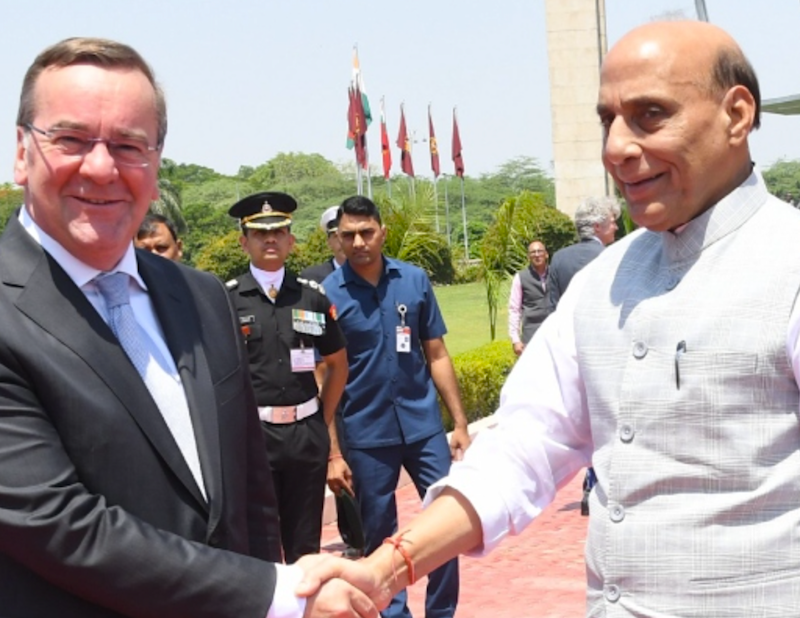 Boris Pistorius (L) with Rajnath Singh in New Delhi, on June 6, 2023. (Photo by special arrangement)
New Delhi: The defence minister, Rajnath Singh, held a bilateral meeting with Germany's defence minister, Boris Pistorius, in the national capital, on Tuesday. According to an Indian defence ministry release, the two ministers reviewed the ongoing bilateral defence cooperation and explored ways to enhance the collaboration, especially partnership in defence manufacturing.
Senior officials from the defence ministry, including the defence secretary, Giridhar Aramane, and the chief of defence staff, General Anil Chauhan, took part in the delegation-level meeting. The German defence minister was accompanied by his country's defence secretary, Benedikt Zimmer, and other senior officials. The German ambassador to India, Philipp Ackermann, was also present during the talks.
Pistorius started his four-day India visit from Monday. This is the first visit of a German defence minister to India since 2015.
Had fruitful discussions with the German Defence Minister, Mr Boris Pistorius. His passion for Yoga is commendable.

We discussed regional issues and our shared priorities. We also agreed to further strengthen defence co-operation between India & Germany. pic.twitter.com/W5ouqtOvIq

— Rajnath Singh (@rajnathsingh) June 6, 2023
Project-75(I) submarine deal
After his meeting with Singh, Pistorius dropped a big hint that German defence behemoth thyssenkrupp Marine Systems (TKMS) may bag the deal for six stealth conventional submarines under the Indian Navy's Project-75(I). Talking to reporters he said TKMS is at a "good position" in bid to build six next-generation stealth conventional submarines for the Navy under Project 75(I).
The German defence minister said, "We are talking about a deal for TKMS, about six submarines … but of course, the procedure is not finished yet. But I think the German industry is in a good place (position) in that race."
---
Read also: GE may make fighter engines in India, deal likely during PM's US trip
---
It may be recalled that India issued the request for proposal to build six next-generation stealth conventional submarines in India worth 43,000 crore ($5.8 billion) two years ago, in July 2021. The RPF had to be extended by two years until August 2023 primarily because of two reasons.
The first was the clause in India's proposal that the submarine manufacturer must transfer the technology for fuel-cell-based air-independent propulsion. This made four of the initial foreign original equipment manufacturers to drop out of the race because they didn't have the technology. Only Germany's TKMS and South Korea's Daewoo Shipbuilding & Marine Engineering (DSME), who had this technology, remained in the race.
However, progress couldn't be made towards a deal for building the six submarines in India because New Delhi laid down a stringent liability clause, which, according to media reports, were unacceptable to both TKMS and DSME.
Now, with the German defence minister saying that TKMS was in a "good position" in the Project-75(I) race, it seems India has all but agreed to water down some part of its liability clause.
New Delhi seeks Berlin's entry in Indian defence industry
Earlier during their meeting, Singh apprised Pistorius about the opportunities that have opened in India's defence production sector. He also told Pistorius to explore the possibilities for German companies to invest in the two defence industrial corridors in Uttar Pradesh and Tamil Nadu. Singh also told the German defence minister that Indian defence companies could participate in the supply chains of the German defence industry and add value to the ecosystem.
It may be mentioned that India and Germany have had a strategic partnership since 2000, which has been gradually strengthened from 2011 onwards through intergovernmental talks at various levels.
After holding a delegation-level bilateral talks with the Indian defence minister, Pistorius interacted with some Indian defence start-ups at an Innovations for Defence Excellence (iDEX) event organized at the Indian Institute of Technology (IIT), Delhi.
From New Delhi, the German defence minister will travel to Mumbai next, on June 7, where he is scheduled to visit the Western Naval Command headquarters and the Mazagon Dock Shipbuilders Limited.
---