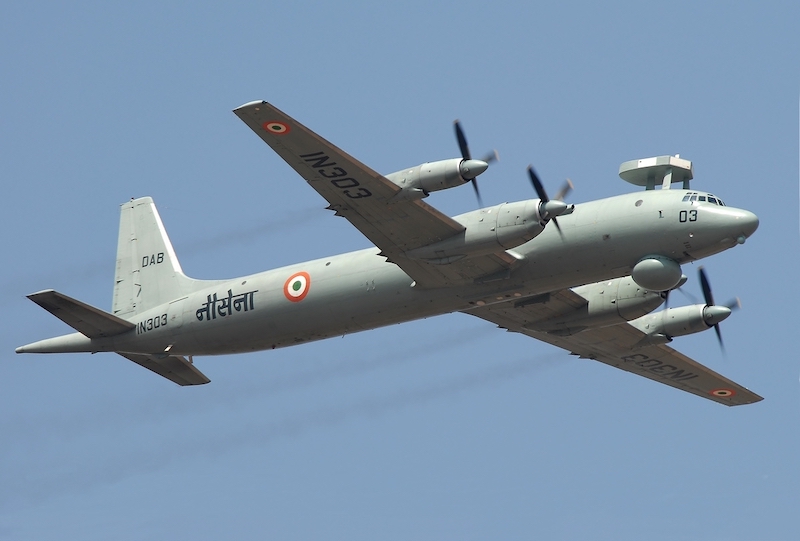 An Indian Navy Il-38. (Photo: Creative Commons/Sergey Krivchikov)
New Delhi: The 74th Republic Day parade will witness a massive flypast by 50 aircraft belonging to all the three services. This will also include the Indian Navy's maritime patrol and anti-submarine warfare aircraft Ilyushin Il-38 "Dolphin", which will participate for the first time since its induction in the service some 45 years ago.
It may also be the last time when the Russian-origin aircraft will take part in the Republic Day parade flypast as it was retired in January 2022, after being in service for almost 44 years.
The Ilyushin Il-38 was developed in the Soviet Union from the four-engine Ilyushin Il-18 turboprop transport aircraft. It took its maiden flight in September 1961 and entered service in the erstwhile superpower's naval aviation in 1967. The Russian naval aviation, which has inherited the Soviet naval aviation, still has the aircraft in service.
---
Read also: 74th Republic Day events differently planned than earlier editions
---
India brought the Ilyushin Il-38 in 1977 from the Soviet Union for the Navy as a reconnaissance and anti-submarine aircraft. Originally, five of these aircraft were commissioned in the Indian Naval Air Arm. However, it lost two of them, IN302 and IN304, in a midair collision on October 1, 2002, during the squadron's silver jubilee celebrations, over Goa's Dabolim airport. In that accident, all twelve crew members (six on each aircraft) were killed and both aircraft were destroyed.
Apart from the Navy's solo Ilyushin Il-38 "Dolphin", 45 aircraft from the Indian Air Force and four from the Indian Army will take part in the capital's Republic Day parade. Among the IAF aircraft, 23 will be fighters, out of which nine would be the newly acquired Rafales. There will also be a vintage Dakota.
The four Indian Army aircraft would be the weaponized versions of the advanced light helicopter – ALH-WSI Rudra.
---