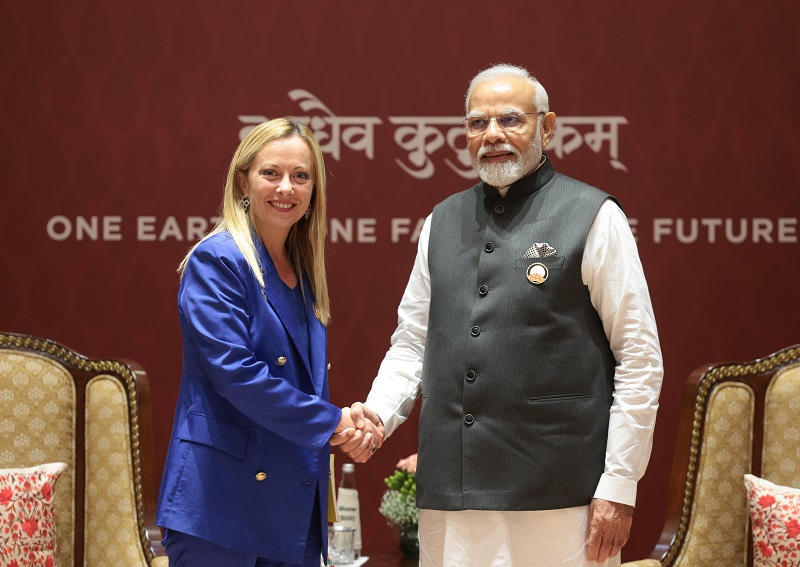 PM Narendra Modi (R) with Italian PM Giorgia Meloni (L)
New Delhi: Prime Minister Narendra Modi on Saturday held bilateral meeting with his counterpart from the United Kingdom, Japan and Italy, Rishi Sunak, Fumio Kishido and Giorgia Meloni, respectively on the sidelines of the ongoing G20 Summit in Delhi.
India-United Kingdom Bilateral Meeting
In his meeting with the UK Prime Minister, the two leaders reflected on the close and growing ties between New Delhi and London.
Sunak congratulated Modi on his country's consummate presidency of the G20 this year, which has demonstrated India's vital global leadership and influence.
---
Read also: New Delhi Leaders' Declaration adopted at G20 Summit in India
---
They agreed it was important to build on the past and focus on the future, cementing a modern partnership in cutting-edge defence technology, trade and innovation. They also discussed a number of consular issues.
The leaders had a productive conversation about negotiations on a UK-India Free Trade Agreement.
Further, Sunak reiterated the UK's ambition to deliver a landmark trade deal which benefits businesses and workers in both countries and grows trade in both goods and services.
They agreed that ministers and negotiating teams would continue to work at pace towards an FTA.
India-Japan Bilateral Meeting
During their meeting, Modi and Fumio Kishida reaffirmed their commitment to further deepening the India-Japan Special Strategic and Global Partnership.
---
Read also: G20 to Geo20 -- India's push for a more inclusive world gains momentum
---
The leaders acknowledged the constructive dialogue of the two countries throughout the year on their priorities for their respective G-20 and G-7 Presidencies, particularly in bringing the concerns and aspirations of the Global South to the fore.
They also held discussions on various facets of the India-Japan bilateral partnership, including on infrastructure development, technological collaboration, investments and energy.

India-Italy Bilateral Meeting
Modi and Giorgia Meloni noted with satisfaction the completion of 75 years of establishment of diplomatic relations between the two countries.
They also took stock of the progress in diverse areas of the India-Italy Strategic Partnership, and agreed to bolster cooperation in areas like defence and new and emerging technologies.
They noted the need for G7 and G20 to work in consonance for the greater global good.
This is the second visit of Prime Minister Meloni to India following her State visit in March 2023, during which bilateral relations were raised to the level of a Strategic Partnership.
---
Read also: What is G20? Some key points.
---
Modi, further, appreciated Italy's support for India's G20 Presidency and Italy's joining of the Global Biofuel Alliance and the India - Middle East - Europe Economic Corridor.

---