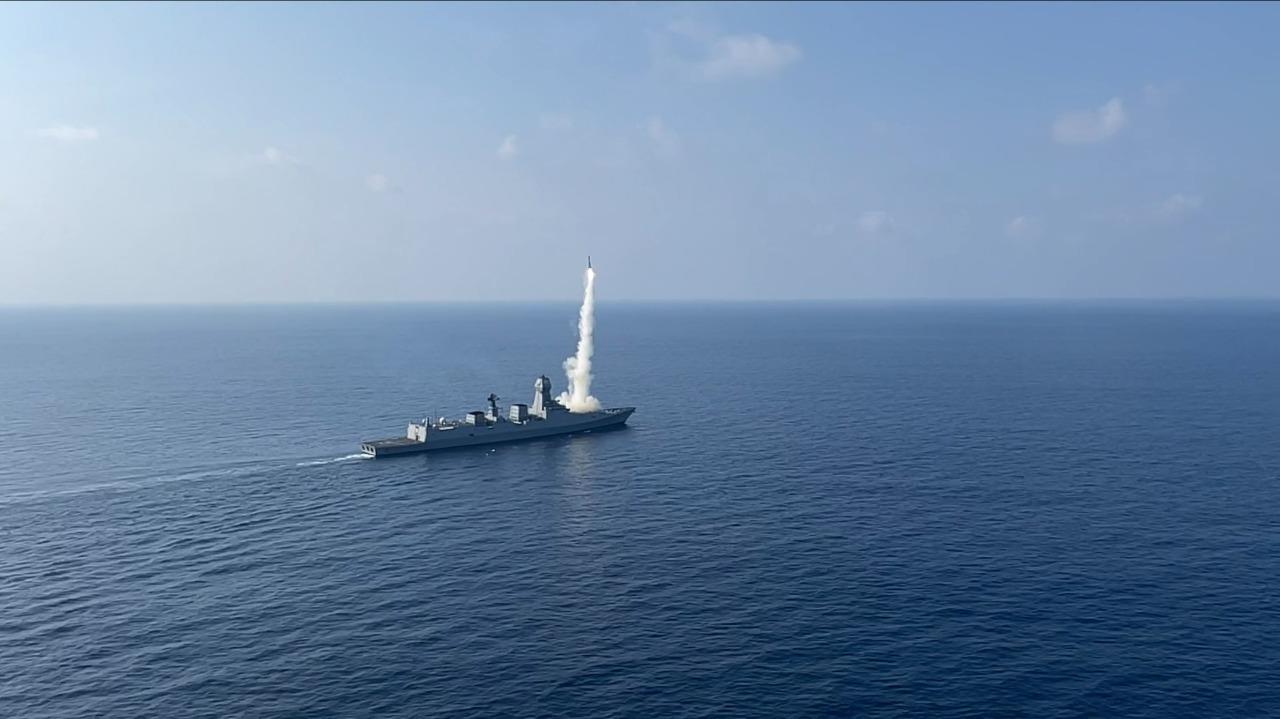 Mumbai: Indian Navy successfully demonstrated the accuracy of an extended-range land attack Brahmos supersonic cruise missile from the stealth destroyer INS Chennai, on 5th March.
The missile hit its intended target with pinpoint accuracy after traversing an extended range trajectory and performing complex manoeuvres.
Both Brahmos missile and INS Chennai are indigenously built and highlight the cutting-edge of Indian missile and ship-building prowess.
They reinforce the Indian Navy's contribution towards the Atma Nirbhar Bharat and Make in India endeavours.
This achievement establishes the Indian Navy's ability to strike even deeper and influence land operations further away from sea, when and where required.
Just days ahead of President's Fleet Review in Vizag in February, the advanced supersonic BrahMos cruise missile (naval version) was test-fired from a stealth guided-missile destroyer INS Visakhapatnam of the Indian Navy off the Western seaboard.
In January also, an extended range sea-to-sea variant of the supersonic cruise missile was test fired from the same destroyer.
On December 8 last year, the Air version of the missile system was successfully test fired from the Sukhoi-30 MKI.
Let's know about the world's deadliest supersonic cruise missile system
Naval variant
The BrahMos missile has been deployed in the Indian Navy since 2005. INS Rajput which has been decommissioned in 2021, was the first guided missile destroyer to deploy the deadly BrahMos.
It has been equipped on a large number of frontline Indian Navy warships. INS Visakhapatnam which has been inducted in December last year, is also equipped with this missile system.
Land variant of BrahMos
The land version of BrahMos has been in operation in Indian Army since 2007.
The missile can be fired on three different targets or in a variety of other combinations near simultaneously. The land version is also equipped with Inertial Navigation System and Global Positioning System.
Air version
In 2017, the BrahMos air-launched cruise missile was tested first time from the Sukhoi-30 MKI against a sea-based target in the Bay of Bengal.
In 2019, it validated its impeccable land attack and anti-ship capability from large, stand-off ranges by day or night and in all weather conditions.
A squadron of Sukhoi-30 MKI based in Tamil Nadu has been armed with the BrahMos, adding teeth to India's air and maritime dominance in the Indian Ocean Region.
Submarine version
In 2013, India successfully launched the maiden test firing of the over 290-km-range submarine launched version of BrahMos in the Bay of Bengal. It is now ready for fitment in submarines for vertical launch.
---