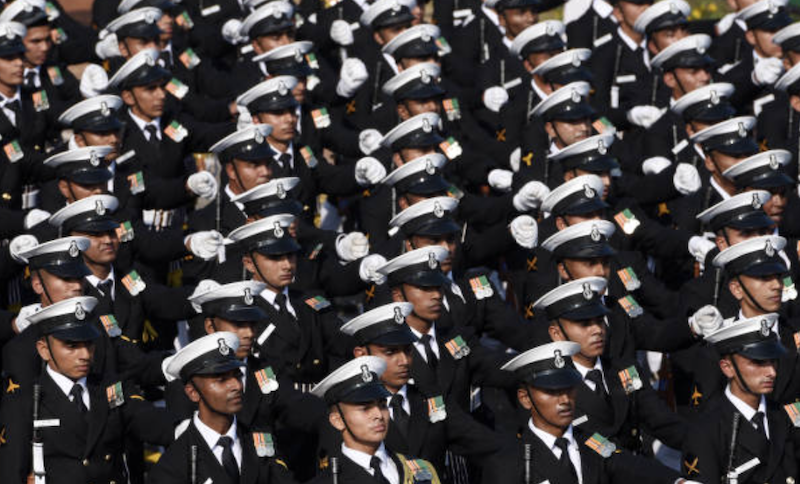 An Indian Navy marching contingent. (File)
New Delhi: In the main Republic Day parade in New Delhi's Kartavya Path, on January 26, the Indian Navy will have a crisp marching contingent led by its world-renowned band of 80 musicians. It will be led by MCPO Musician (Second Class) M Antony Raj, playing the Indian Navy Song "Jai Bharti", the service said in a news release, on Friday.
The band will be followed by a contingent of 144 young sailors led by Lieutenant Commander Disha Amrith as contingent commander and Lieutenant Ashwani Singh, Sub Lieutenant Valli Meena S and Sub Lieutenant M Aditya as platoon commanders.
However, the Navy seems to have given special attention to its tableau this year.
Led by Lieutenant Commander Inderjeet Chauhan, the Navy said the tableau is designed with an aim to showcase the multi-dimensional capabilities of the force as well as highlight key indigenously designed and built inductions under mission "Aatmanirbhar Bharat" (self-reliant India). The tableau also aims to highlight "Nari Shakti" (women power) in the Navy.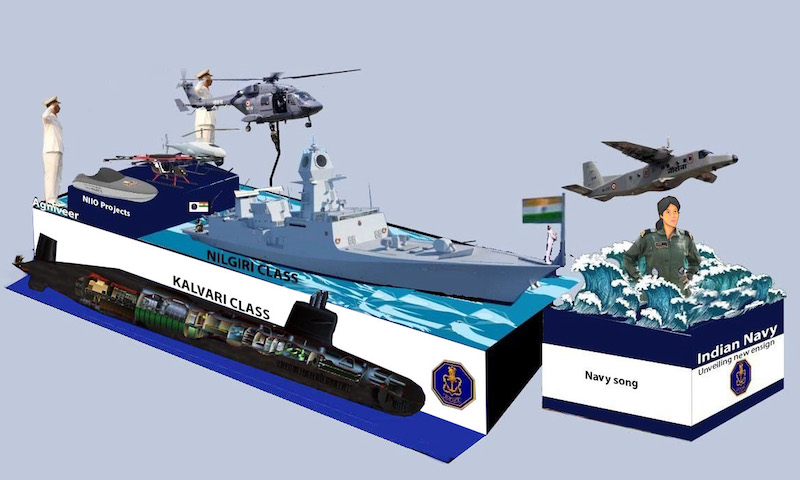 The design of the Navy tableau for the 74th Republic Day parade. (Photo: Indian Navy)

Describing the tableau, the Navy said the forward part of the tableau, which will be on a tractor, will show a woman aircrew of Dornier aircraft flying overhead, mimicking the all-women crew of a surveillance sortie undertaken in August 2022.
Apart from that, videos of unveiling of the new naval ensign and the new Navy song – "Hum Tayyar Hain" – will be streamed on the tableau's LED screens.
---
Read also: Navy gets new ensign with major changes from old flag
---
The main section of the tableau, the Navy said, will explain the "Make in India" initiatives of service. A model of the new indigenous Nilgiri-class ship with a Dhruv helicopter deploying marine commandos will take the centre stage. On the sides of the main section, cut-out models of the indigenous Kalvari-class submarines will be depicted.
---
Read also: Fifth Kalvari-class submarine to be commissioned on Jan 23
---
In the rear section of the tableau, three models of autonomous unmanned systems, which are being developed indigenously under IDEX-Sprint Challenge, will be displayed.
---