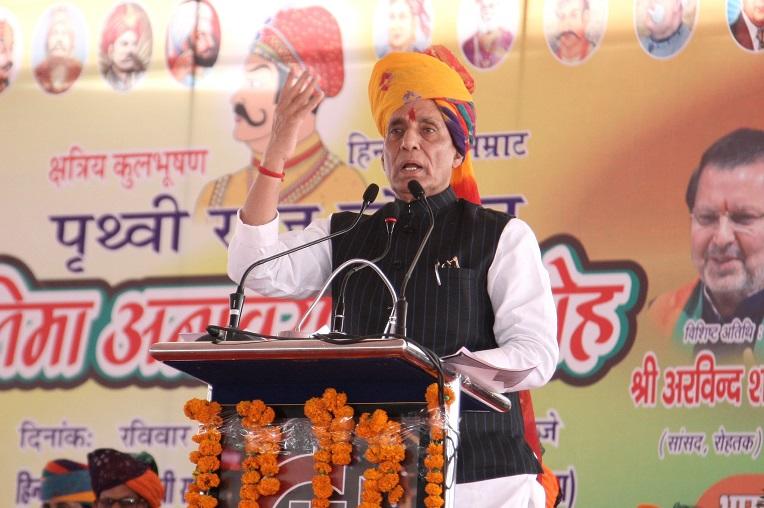 Rajnath Singh unveils Prithviraj Chauhan's statue in Jhajjar
Jhajjar: Defence Minister Rajnath Singh on Sunday unveiled the statue of prominent Rajput warrior Prithviraj Chauhan at Jhajjar in Haryana.
Rajnath Singh termed Prithviraj Chauhan as a great ruler who not only reigned over a large territory, but was also an epitome of bravery, justice and public welfare.
Prithviraj belonged to the Rajput's Chauhan or Chahamana dynasty from Ajmer in Rajasthan.
He ascended the throne in 1177 or 1178, and very quickly expanded his kingdom.
While Prithviraj's army was able to decisively defeat the invading Ghurids in the First Battle of Tarain (present-day Haryana) in 1191, he was defeated in the Second Battle of Tarain in the following year.
His defeat paved the way for Islamic rulers to make in road in the country.
What are the highlights of Rajnath Singh speech?
Rajnath Singh has assured the Nation that the Armed Forces are fully equipped to give a befitting reply to anyone who casts an evil eye on India.
He asserted that safeguarding national interests is the main focus of the government and the military is being armed with state-of-the-art and indigenously-developed weapons/equipment to protect the country from future challenges.
India is no longer weak. We believe in peace, but if anyone tries to harm us, we will give a befitting reply.
Our soldiers have proved this time and again. 2016 surgical strikes, 2019 Balakot airstrikes and the bravery shown by our soldiers during the Galwan Valley incident are proof of our prowess & preparedness.
---