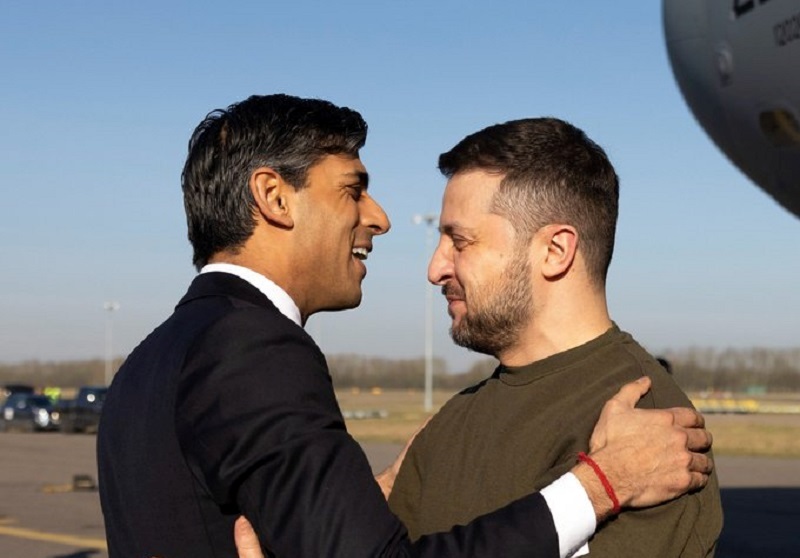 Rishi Sunka and Zelensky (PC: Twitter/Rishi Sunak)
London: The Rishi Sunak administration in the United Kingdom announced a slew of new sanctions to accelerate economic pressure on Russian military and Vladimir Putin's supporters, hours after the Ukrainian President Zelenskyy makes his maiden visit to the UK since Russian invasion.
The sanctions include elusive individuals involved in Kremlin financial networks and IT company servicing those close to Putin and military targets involved in the production of Russian warfare equipment.
In total the UK's sanction package hits 6 entities providing military equipment such as drones for Russia's invasion of Ukraine, as well as 8 individuals and 1 entity connected to nefarious financial networks that help maintain wealth and power amongst Kremlin elites.
The announcement comes as President Zelenskyy arrives in the UK today to meet the Prime Minister and visit Ukrainian troops.
The leaders will discuss a two-pronged approach to UK support for Ukraine, starting with an immediate surge of military equipment to the country to help counter Russia's spring offensive, and reinforced by long-term support.
Foreign Secretary James Cleverly said: "Ukraine has shown Putin that it will not break under his tyrannical invasion. He has responded by indiscriminately striking civilian areas and critical national infrastructure across the country."
"We cannot let him succeed. We must increase our support."
"These new sanctions accelerate the economic pressure on Putin – undermining his war machine to help Ukraine prevail. I am determined, consistent with our laws, that Russia will have no access to the assets we have frozen until it ends, once and for all, its threats to Ukraine's territorial sovereignty and integrity."
Today's sanctions target organisations that Putin's military relies on to maintain their illegal invasion of Ukraine. They are:
· CST, a manufacturer of Russian drones which have been used to destroy Ukrainian combat vehicles.
· RT-Komplekt who produce parts for helicopters used by Russia in their assault on Ukraine.
· Oboronlogistics who organise the transportation and delivery for Russian military equipment.
· Universalmash and Lipetsk, who manufacture or modify the tracked chassis for anti-aircraft missile systems used by Russia's armed forces in Ukraine.
· Topaz, a software company involved in military aviation
These designations, alongside the unprecedented trade measures implemented by the UK and international partners, continue to undermine the Russian military complex – causing shortages in critical components that Russia needs to sustain their assault on Ukraine and hampering military capabilities for years to come.
A group of those connected to Putin through opaque financial networks have also been targeted in today's sanctions. These Kremlin elite owe their positions of power and authority to Putin – enjoying personal riches and oversight of state owned industries as a thanks for their allegiance.
IT services company Moscoms LLC has been sanctioned. The company acts as a nexus for the Russian elite, providing host domains to many involved in destabilising Ukraine. This includes LLCinvest.ru, which is connected to 86 companies within Putin's web that are worth a total of £3.7 billion. The 'LLCInvest' domain is used also by the organisation that owns the 'Shellest', a yacht linked to Putin and used regularly for travel to his palace.
Also included within today's package are 5 individuals connected to Putin's luxury residences, including the 100 billion rouble 'Putin's palace' and Putin's lakeside Dacha. This includes:
· Boris Titov - Presidential commissioner for Entrepreneur's Rights, which he was awarded after purchasing 740 acres of vineyards on the grounds of the palace.
· Nikolay Egorov - Until recently, Deputy Chairman of the largest privately owned oil refinery in Russia
· Sergey Rudnov - the owner of pro-Kremlin news outlet Regum
· Svetlana Krivonogikh - a shareholder in Bank Rossiya and the National Media Group, who consistently promote the Russian assault in Ukraine.
· Viktor Myachin – Owner of Aerostart, a Russian aircraft maintenance and repair company.
By consolidating wealth and power into his network, Putin is also able to extend his reach into industries across Russia. Also sanctioned today are:
· Alexey Repik - the Chairman of the Board of R-Pharm, a Russian pharmaceutical company with received funding from the Russian Direct Investment fund. Repik has reported had four meetings with Putin in the last year, and owns the jet M-FINE, which used by Putin's daughter
· Evgeny Shkolov, a former presidential aide and Deputy Chairman of the Board of Directors for JSC System Operator of the Unified Energy System
· Pavel Titov – President of Delovaya Rossiya, an association that represents entrepreneurial interests and set up by his father Boris Titov.
The UK has sanctioned over 1,300 individuals and entities since Putin began his full scale invasion, as well as unprecedented trade measures co-ordinated with international partners.
Over £20 billion of trade in goods is now under full or partial sanction, and exports of machinery and transport equipment have decreased by 98% - forcing them to desperately scrounge sub-par semiconductors from fridges and dishwashers to build military equipment.
Through maximising economic pressure on Russia, providing £2.3 billion in military aid and £1.5 billion in economic and humanitarian support, the UK will continue to stand shoulder to shoulder with Ukraine until they can secure peace.
---