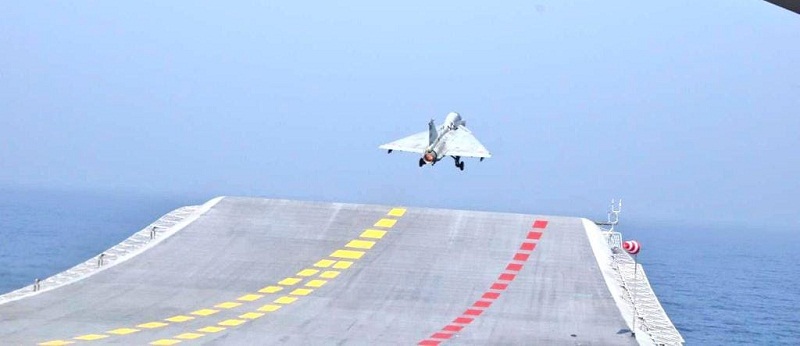 LCA Navy onboard INS Vikrant
Kochi: In a major milestone which is sure to boost self-reliance in the defence manufacturing, indigenously built aircraft carrier INS Vikrant witnessed successful landing onboard by HAL-built LCA (Navy).
In a statement, the Indian Navy said: "A historical milestone by Indian Navy as Naval Pilots carry out landing of LCA(Navy) onboard INS Vikrant."
"Demonstrates India's capability to design, develop, construct & operate Indigenous Aircraft Carrier with indigenous Fighter Aircraft," it said.
---
Read also: INS Vikrant: India's first indigenous aircraft carrier commissioned
---
The carrier has a capacity for around 45 aircraft. Prior to this, the LCA Navy had made successful landing onboard INS Vikramaditya.
The naval version of LCA has been designed with stronger landing gears to absorb forces exerted by the ski jump ramp during take-off, to be airborne within 200 metres and land within 100 metres as against 1,000 metres required for normal runways.
The Indian Navy currently operates Russian-origin Mig-29K fighters from INS Vikramaditya.
In December, the Indian Navy had submitted a detailed trial-evaluation report on the performance of the Rafale (M) and F/A-18 Super Hornet to the defence ministry.
As per the reports, France's Dassault Aviation that makes Rafale (M) emerged as the frontrunner for INS Vikrant, leaving Boeing's F/A-18 Super Hornet behind.
---
Read also: Rafale (M) or F/A-18 Super Hornet for INS Vikrant? Indian Navy submits detailed trial report to government
---
It is expected that two sides would ink a deal next month.
Last year, these warplanes had showcased their capabilities at the shore-based test facility at INS Hansa in Goa, which has a ski-jump resembling that of the two Indian aircraft carriers – INS Vikramaditya and INS Vikrant.
The Navy wants to procure 26 aircraft-based twin-engine fighter aircraft.
---