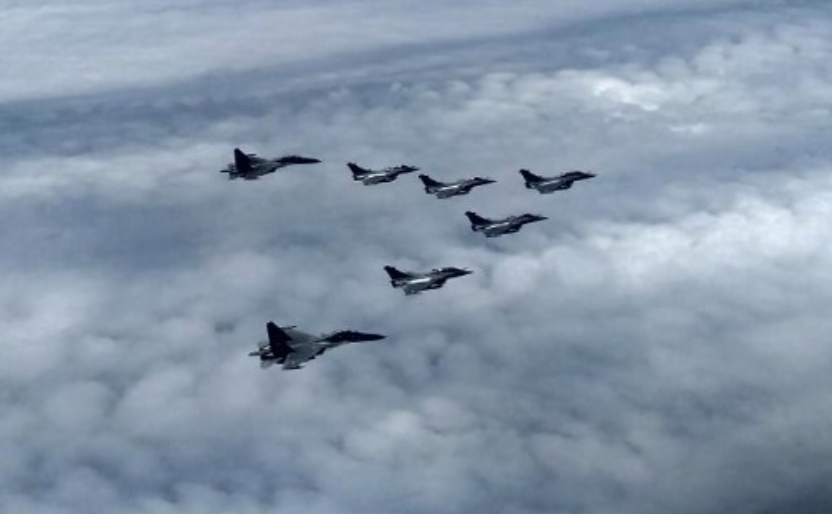 Four IAF Rafale jets and two Sukhoi-30MKI jets flying in a formation. (Photo IAF)
New Delhi: The Indian Air Force will carry out a big exercise in the eastern sector on December 15 and 16. This comes days after Indian Army and China's People's Liberation Army troops clashed near the line of actual control (LAC) in Yangtse area near Tawang in that sector, on December 9.
Air Force sources said it will be a command-level exercise to test its capabilities on the China front in the east. Several fighter aircraft, transport aircraft, helicopters, and drones will participate in the two-day drill, in which airbases in West Bengal and Assam will be involved.
The Hasimara airbase, which is in West Bengal's strategically important Siliguri corridor, also known as India's "chicken neck", is a major airbase under the Eastern Air Command and houses Rafale jets, India's latest warplane. In Assam, Tezpur, Jorhat, and Chabua are major airbases, which, among other aircraft, house Sukhoi-30MKI jets, India's other frontline fighter.
However, the IAF sources clarified that the exercise is a routine exercise and was planned much before the December 9 fists-and-clubs brawl between hundreds of Indian and Chinese troops. In that clash, troops from both sides sustained injuries.
On Tuesday, the defence minister, Rajnath Singh, apprised Parliament about the clash after holding a high-level meeting with the foreign minister, S Jaishankar; the national security advisor, Ajit Doval; and the chiefs of the Army, Air Force, and the Navy.
It must be noted that the December 9 clash in the Tawang sector was the biggest such clash between Indian and Chinese troops since the deadly June 2020 clash near the LAC at eastern Ladakh's Galwan valley in the northern sector.
---