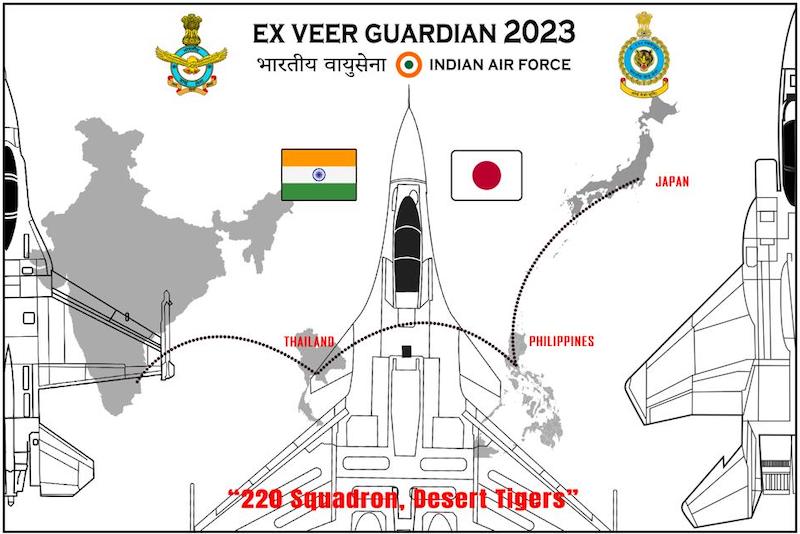 New Delhi: The Indian Air Force and Japan Air Self-Defense Force are all set to hold a two-week joint air drill – "Exercise Veer Guardian – 2023" – at Japan's Hyakuri airbase, the IAF said. The exercise will start from January 12 and end on January 26.
The Indian contingent participating in the exercise will include four Sukhoi-30MKI fighters, two Boeing C-17 Globemaster III transport aircraft, and one Ilyushin Il-78 mid-air refueller. On the other hand, the JASDF will be participating with four Mitsubishi F-2 fighters and four McDonnell Douglas F-15 fighters.
In a media release, the IAF said: "During the second 2+2 foreign and defence-ministerial meeting held in Tokyo, Japan, on September 8, 2022, India and Japan agreed to step up bilateral defence cooperation and engage in more military exercises, including holding the first joint warplane drills, reflecting the growing security cooperation between the two sides. This exercise will, thus, be another step in deepening strategic ties and closer defence cooperation between the two countries."
---
Read also: Joint India-US army exercise completes key training goals
---
The service further said the inaugural exercise will include various kinds of aerial-combat drills between the two air forces, in which they will undertake multi-domain air-combat missions in a complex environment and will exchange their best practices with each other.
Experts from both sides will also hold discussions to share their expertise on a range of operational aspects.
The IAF said, "Exercise Veer Guardian will fortify the long-standing bond of friendship and enhance the avenues of defence cooperation between the two air forces."
---
Read also: The Quad is warming up, but is it enough to counter China?
---
It may be noted that this first-ever joint air exercise between India and Japan. However, the two countries have conducted several joint naval exercises along with the United States and Australia, the two other members of the four-nation Quadrilateral Security Dialogue or Quad, over the years.
This comes at a time when China is making aggressive manoeuvres along India's northern borders, South China Sea, and against Taiwan. Like India, Japan has territorial disputes with China, and like other countries in the Indo-Pacific, it doesn't recognize China's South China Sea claims. Apart from that, Tokyo has been vocal about its support to Taiwan, which China considers as its territory. According to a Kyodo News Agency report in July 2021, the-then Japanese deputy prime minister, Taro Aso, had said Japan would have to defend Taiwan with the United States in the event of a Chinese invasion.
---
Read also: China objects to India-US drill near LAC, New Delhi shows mirror to Beijing
---
A recently concluded joint army exercise between India and the US near the LAC in Uttarakhand had irked China. Whether Beijing reacts to this new joint air exercise between two countries it sees as adversaries remains to be seen.
---