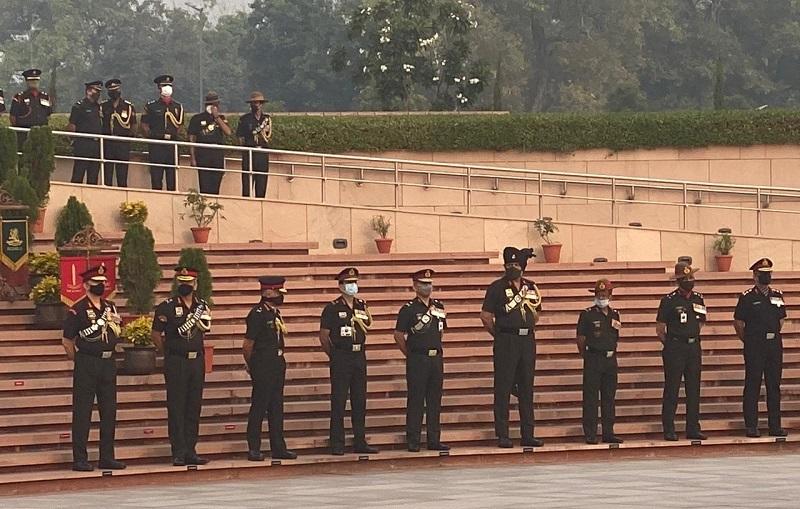 New Delhi: In a first, all top commanders and Colonel of the Regiments of Indian Army paid tributes to the fallen soldiers who made supreme sacrifice in defending the country's sovereignty, at National War Memorial (NWM) here on Tuesday on 74th Infantry Day.
The biannual Army Commanders' Conference is underway here to review the prevailing security scenario and other reforms agendas.
''As a first, all Army Commanders (who are already present in Delhi for the Army Commanders Conference) and all Colonel of the Regiments present in Delhi will also be laying wreath to mark their respect to the Infantryman today, first time event," an Indian Army spokesman said here on Tuesday.
Chief of Defence Staff Gen Bipin Rawat, Indian Army Chief Gen MM Naravane and DG Infantry laid the wreath together at the NWM.
On ceremonial duties at the National War Memorial for wreath laying, 13 Kumaon Regiment was deployed and they are from the same unit which fought last man last round at the Battle of Rezangla in the winter of 1962 with China's People's Libération Army (PLA).
Major Shaitan Singh who was awarded Param Vir Chakra posthumously and his team of 13 Kumaon had created history by fighting to their last bullet to defend their position at the Rezangla mountain pass.
Read Also: Infantry Day celebration brings a unique coincidence
Rezangla is the feature that Indian troops have recently occupied in South Pongang Tso, last month.
October 27 is celebrated as Infantry Day by the Indian Army as it was on this day that two Infantry companies of the first battalion of the Sikh regiment and 13 Kumaon were airlifted from Delhi to Srinagar to liberate Kashmir from the Pakistani invaders (Kabailis) and regulars of the Pakistan Army.
This day is also remembered as Kumaon Regiment and Sikh Regiment day.
---