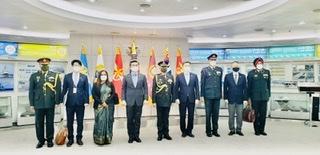 New Delhi: The bilateral relations between India and South Korea go back to the start of the Korean war of 1950 when India deployed an Army medical unit ie the 60th Parachute Field Ambulance commanded by Lieutenant Colonel AG Rangaraj, Mahavir Chakra.

The unit played a significant part in various Allied offensives over the course of three years.

India's proposal for termination of the war was adopted in the United Nations General Assembly and was invited to head the Neutral Nations Repatriation Commission (NNRC).

Lieutenant General KS Thimmaya was appointed as the Chairman of NNRC.

India dispatched one Brigade Group designated as Custodian Forces-India (CFI) comprising 5500 All Ranks and took charge of over 25000 Prisoners of War, assisting in their repatriation to parent nations.

The discipline, neutrality, fair play and firmness displayed by the Indian troops were highly admired by everyone in the global community.

Both nations have a convergence of outlook in the strategic and defence realm.

India's "Act East Policy" finds resonance in the present ROK administration's "New Southern Policy".

The major areas of concern for ROK are increasing Chinese hegemony in the South China Sea, security of sea lines of communication (SLOCs) due to incidents of piracy and hostilities with the Democratic People's Republic of Korea (DPRK).

ROK considers India as a stabilising influence in the Indian Ocean region.

India considers ROK as a high quality manufacturer of defence-related equipment in sectors such as aeronautics, ship-building, electronics, missile technologies, miniaturization and software.

ROK also has the potential to be the principle partner in developing Indian defence industry base.

ROK has always been supportive of India's inclusion and participation in various regional forums.

ROK and India are also signatories to Mutual Logistics Support Agreement between the navies and which can further be expanded to other services as well.
ROK Armed Forces are one of the strongest professional armies in the world.

They have extensive operational experience since they operate alongside US troops as well as exercise regularly with US and other regional Armed Forces.

This enables them to be at the cutting edge in technological, doctrinal and operational terms.

Due to constant hostilities with DPRK, they maintain their troops at high levels of training and readiness.

Indian Armed Forces can therefore gain substantially from exchanges with ROK Armed Forces.

Service to Service cooperation was identified as an important aspect of bilateral defence cooperation during the visit of former defence minister late Shri Manohar Parikkar to ROK in 2015.

It was agreed to enhance engagements between the services commencing with Navy and then expanding to other service as well.

The Indian Army has also initiated strategic level exchanges with the Army of the ROK.

The inaugural Army to Army Staff talks were held in ROK in August 2018.

Second edition of the staff talks were held in India in September 2019.

The third staff talks were scheduled to be held in ROK in 2020, however, due to COVID-19, they have been postponed and planned in first half of 2021.

Subject Matter Expert Exchanges (SMEE) in Border Management & Surveillance, Counter terrorism, Special Forces Operations and peacekeeping operations form a major part of these discussions.

ROK has been regularly sending officers to attend courses at the National Defence College, Counter Insurgency and Jungle Warfare (CIJW) School and at the Defence Services Staff College, on a self-financing basis.

Indian Officers have been subscribing to Basic Course at Joint Forces Military University (JFMU) and Korea National Defence University (KNDU).

In 2019, ROK deputed one officer for CIJW course and one officer for DSSC.

India has deputed two officers for Military courses in ROK one each in JFMU and KNDU.

Bilateral ties between the two countries were raised to the level of 'Strategic Partnership' during the visit to India by the previous President of ROK Mr Lee Myung-bak in January 2010 and further elevated to "Special Strategic Partnership" during the visit of PM Narendra Modi to ROK in 2015.

A number of MoUs have been signed between the two countries such as cooperation in the field of defence (Sep 2010), protection of classified military information (Jan 2014), cooperation in ship building (Apr 2017) and Roadmap for Defence Industries Cooperation (Feb 2020), among others.

The two countries have instituted several forums for regular interaction and discussions between the two Ministries of Defence on the entire gamut of bilateral defence relation including defence industries relations and cooperation in Research and Development.

Major dialogues and interactions have been planned, mostly virtually, between the two countries since the onset of Covid-19.

These include the India-ROK 2+2 dialogue between Vice Minister of Defence & Secretary East, MEA in the month of Jan 2021.

Past interactions include the first Leadership Video Tele Conference between DRDO & Agency for Defense Development (ADD) which was conducted on 17 Nov 2020 at Embassy of India, Seoul.

Further, the Defense Acquisition Program Administration (DAPA) has proposed to form a joint working group for smooth facilitation of implementation of Roadmap on Defence Industries Cooperation between India and ROK.

Defence relations between India and ROK are headed for a marked expansion with more such high level visits and initiation of new forums & agreements.
---