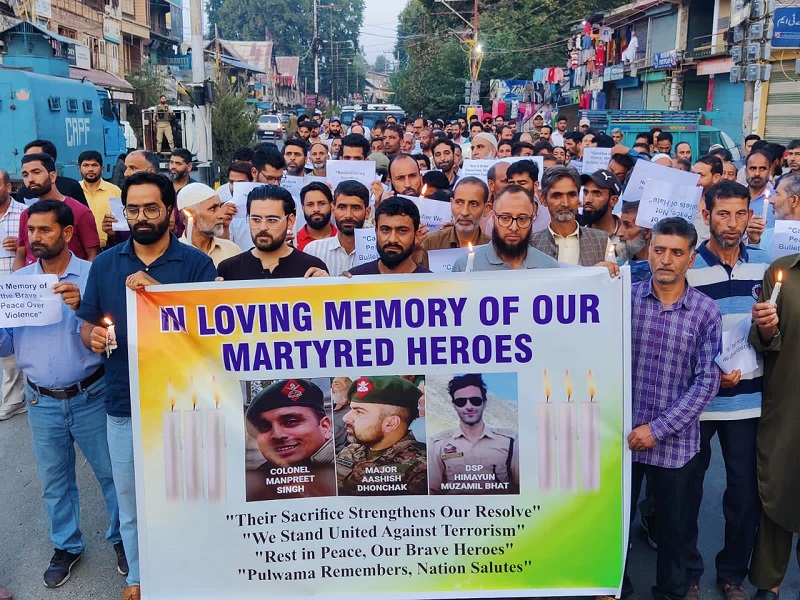 Candle march taken out in Kashmir valley
New Delhi: Srinagar-headquartered Chinar Corps (XV Corps) GOC Lt Gen Rajiv Ghai and Awantipura-based Victor Force GOC Major General Balbir Singh are closely monitoring the Army operations in Anantag that continues for second day as the country mourned its bravehearts who lost their lives during the line of duty.
An Indian Army official said that the terrorists will not be spared anyhow.
"All new generation weapons and devices being used in the operations. We have deployed drones, including herons into action," he said.
---
Read also: Rashtriya Rifles battalion commander, major, DSP among 5 killed in Jammu & Kashmir gunbattle
---
An Indian Army Colonel commanding a Rashtriya Rifles Unit along with a Major and a Deputy Superintendent of Police were killed in a gunfight with terrorists in Kokernag area of Kashmir's Anantnag district on Wednesday.
The killed officers have been identified as Colonel Manpreet Singh, Major Ashish Dhonak & DSP Humayun Bhat.
People across the country are mourning the bravehearts who made supreme sacrifice a day ago while fighting Pakistan-sponsored terrorists in Anantnag.
In Shopian, a candle light march was held at clock tower to pay homage to martyrs of Anantnag and also to protest against Pakistan.
The candle march saw participation of local population and government officials.
Participants expressed their grief and raised pro-India and pro-Army slogans.
In Pulwama town also, a candle light march was held in Pulwama Town in memory of the bravehearts who made the supreme sacrifice while fighting with terrorists in Op Garol.
Locals gathered in huge numbers and participated in the candle light march carried out through the streets of the town.
They were chanting slogans "Hindustan Zindabad and Indian Army Amar Rahe".
---