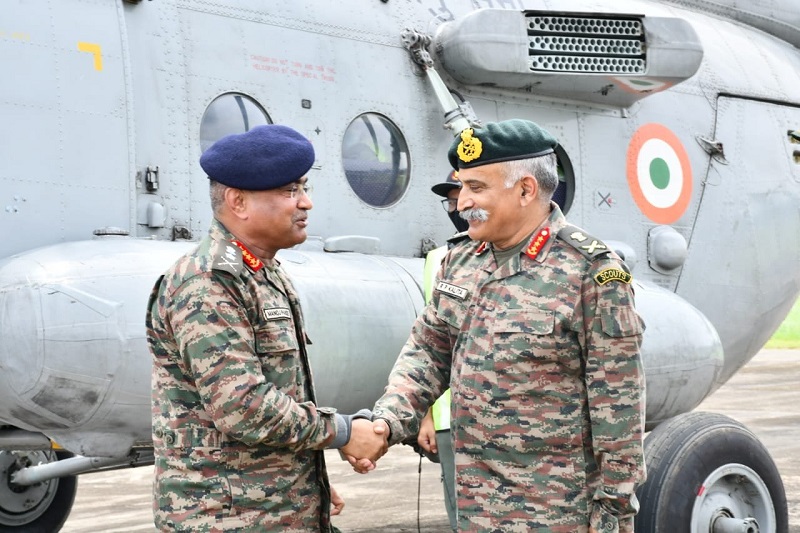 Gen Manoj Pande with Lt Gen RP Kalita (File pic)
Imphal: The Indian Army chief, General Manoj Pande, landed in Manipur, on Saturday, on a two-day visit to review the situation in the aftermath of ethnic clashes that broke out earlier this month in the state. Gen Pande was accompanied by the Eastern Army commander, Lt Gen Rana Pratap Kalita.
"Gen Pande will meet the [Manipur] governor, Anusuiya Uikey; the [Manipur] chief minister, N Biren Singh; and the security advisor [of the state], Kuldip Singh, to discuss the situation," an Indian Army official said.
Gen Pande and Lt Gen Kalita will also meet the ground commanders, including those from other forces, and review the law & order situation.
---
---
Clashes broke out in Manipur after a "Tribal Solidarity March" was organized in the hill districts on May 3 to protest the Meitei community's demand for "scheduled tribe" status.
Owing to the internal security situation in Manipur, the state administration had requisitioned Army and Assam Rifles on May 3.
As an immediate response, Army and Assam Rifles deployed 135 columns to diffuse the situation by carrying out active domination of sensitive and fringe areas.
Approximately 35,000 civilians were evacuated to safe zones and immediate relief and humanitarian aid was provisioned to displaced civilians by the Army and Assam Rifles.
---