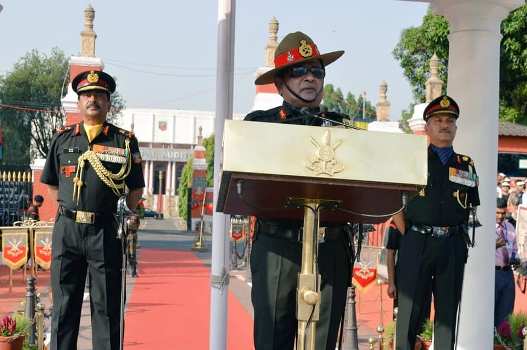 Dehradun: Altogether 459 officers will be joining the Indian Military Academy (IMA) after a passing out parade here on Saturday.
While 382 pass-outs would join the Indian Army, 77 others officers belonged to nine friendly nations of Afghanistan, Bhutan, the Maldives, Fiji, Mauritius, Papua New Guinea, Tonga, Lesotho and Tajikistan.
Lieutenant General Cherish Mathson, General Officer Commanding-in-Chief, South Western Command, took the salute as a reviewing officer.
In the parade that started at 0640 hrs in the morning, three Army helicopters were showering petals at the cadets who mesmerised audience with their stellar performance.
This year, the sword of honour was awarded to GC Akshat Raj for his overall performance, while GC Surendra Singh Bisht won the gold medal in the order of merit.