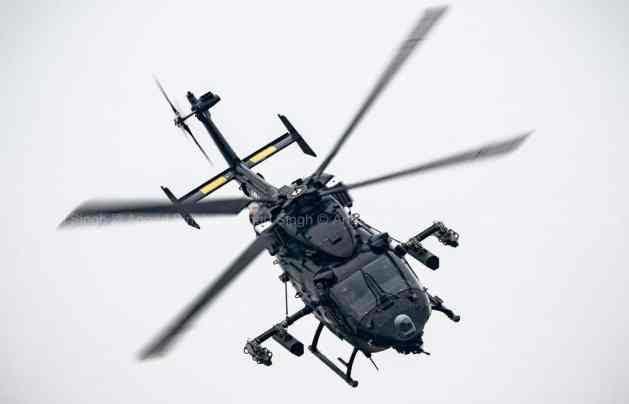 An ALH. (Representational photo)
Udhampur: An Indian Army Dhruv advanced light helicopter crashed at a remote area in Jammu & Kashmir's Marwah area in Kishtwar district, on Thursday morning. The accident left an airman, Craftsman (Aviation Tech) Pabballa Anil, dead and the two pilots injured.
Earlier, at around 11.30am, the Udhampur-based Northern Army Command headquarters issued a statement saying the pilots had reported a technical fault to the air traffic controller (ATC) and proceeded for a precautionary landing. Following this, the chopper made a hard landing due to the uneven ground, undergrowth, and unprepared landing area, the helicopter apparently made a hard landing.
It also said the Army immediately initiated rescue operations and reached the site. The three on board – the two pilots and the technician – were taken to the Udhampur's Army Command Hospital.
Later in the evening, the Northern Command issued a statement confirming the death of the airman, in which it offered its tributes to Paballa Anil and condolences to his kin.
#LtGenUpendraDwivedi, #ArmyCdrNC & All Ranks #NorthernCommand offer tribute to supreme sacrifice of CFN (Avn Tech) Pabballa Anil, in the line of duty during Operational flying of ALH MK III near #Kishtwar #JammuKashmir & offer deepest condolences to the bereaved family@adgpi pic.twitter.com/gsHxwEvRiE

— NORTHERN COMMAND - INDIAN ARMY (@NorthernComd_IA) May 4, 2023
The Army has initiated a court of inquiry to probe the accident.
Not the first ALH crash
This is not the first time the Dhurv ALH and/or its combat variant (weapon systems integrated advanced light helicopter or WSI-ALH met with an accident.
In March, this year, an Indian Navy's Indian ALH ditched in the sea off the Mumbai coast due to a technical glitch. No casualty was reported in the incident.
In October 2022, An Army Aviation's Rudra Mk IV combat helicopter, which took off from Arunachal Pradesh's Lower Siang district HQ at Likabali, crashed near the line of actual control with China killing all five people, including two pilots, on board. In August 2021, an Army Rudra crashed on the Ranjit Sagar reservoir near Pathankot, Punjab, killing its two pilots.
In 2020, an Indian Air Force ALH made a precautionary landing in Uttar Pradesh's Saharanpur, apparently due to a technical problem, while on a routine training mission. No one was injured in the incident.
---