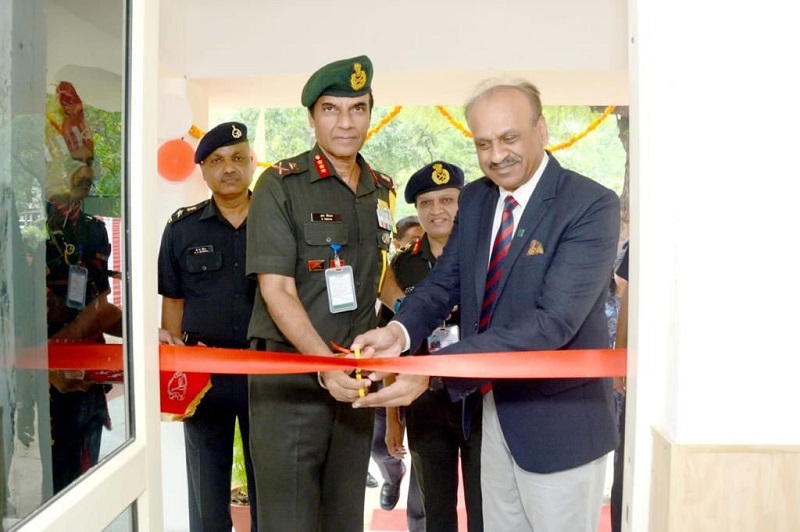 New Delhi: Indian Army's quartermaster general Lt Gen Rajinder Dewan inaugurated first Permanent Aadhaar Enrolment Centre (PAEC) for Army at 1 CBPO, New Delhi.
Alok Sharma, director general postal services graced the occasion with his presence. Maj Gen MK Khan, Addl DG APS was also present.
Aadhaar is a strategic policy tool of the government for social and financial inclusion, and promotes hassle-free people-centric governance.
This PAEC will facilitate Aadhaar related services (enrolment and updation) for tri-services pers, defence civilian and their dependents through their Field Post Offices (FPO) in 48 identified locations. All command HQs, corps HQs and some selected FPOs are identified for establishment of PAEC.
The Army personnel have been facing issues with respect to Aadhar services owing to deployment at far flung and remote areas of the country, where physical connectivity and communication services are lacking.
Cantonments are away from the cities which further aggravated the problems. Apropos, a need was felt to establish PAEC for Army to overcome the challenges and smoothen Aadhar services.
Department of posts (DoP), ministry of communication and UIDAI, ministry of electronics and information technology (MeitY) have supported immensely for establishment of these PAEC in terms of training, equipment's and tech support.
Till date, 120 APS personnel have undergone operator training in three locations of New Delhi, Kolkata and Kamptee.
Total 48 Aadhaar enrolment kits have been provided by DoP. These PAEC will be functional in both field and peace locations, like Leh, Srinagar, Port Blair, Dimapur, Panagarh, Wellington, etc.
The documents required for Aadhaar enrolment are proof of identity (POI), proof of address (POA), proof of date of birth (DOB) (optional) and proof of relationship (POR) (For enrolment through HoF only)
QMG and DG Postal Services conveyed their best wishes to Army Postal Service Corps for this initiative. They also expressed that expansion of this service through more FPOs in near future will facilitate troops to get user friendly government service in their vicinity
---