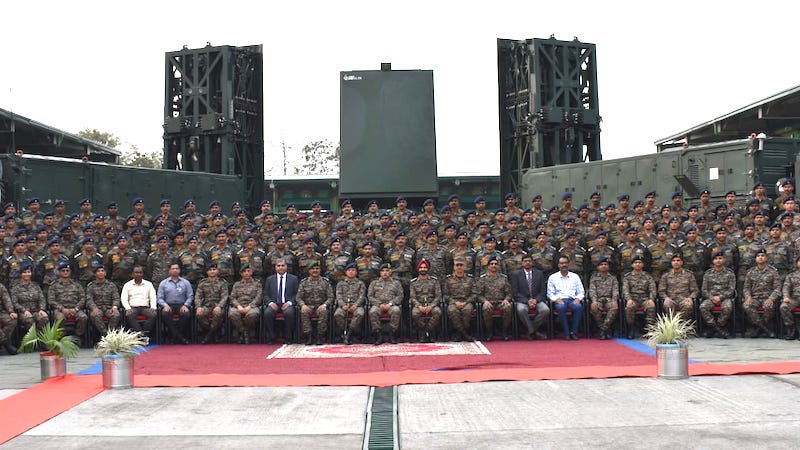 Army officers, soldiers, and other officials pose with a radar and two batteries of the MRSAM regiment. (Photo via Twitter)
Guwahati: The Indian Army has raised its first regiment of medium-range surface-to-air missile (MRSAM) in the Eastern Command, the PRO Defence, Guwahati said in a media release on Thursday. It said the regiment will give a significant boost to the Army's air defence and capability development along the northern borders with China.
It said the MRSAM regiment will be equipped with the Defence Research and Development Organization's indigenously developed weapon system.
The release said: "The MRSAM weapon system, which is also called the 'Abhra' Weapon System, is a state-of-the-art medium-range air-defence weapon system and is a joint venture of DRDO and Israel Aerospace Industries with active participation from Indian public and private defence industry partners including MSMEs (micro, small, and medium enterprises)."
It said the MRSAM regiment can provide air defence against a vast array of aerial targets, like fighter aircraft, helicopters, drones, subsonic and supersonic missiles. It is also capable of engaging multiple targets simultaneously.
The release also said the commander of the Eastern Army, Lieutenant General Rana Pratap Kalita, visited the MRSAM regiment, where he praised the development as a giant leap towards indigenization in the defence sector. He said India will soon become self-reliant in defence manufacturing in line with the national aim of "Atmanirbhar Bharat" (self-reliant India).
---