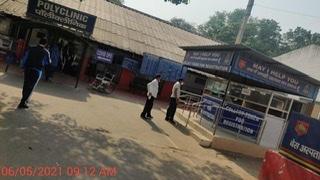 New Delhi: Amidst the ongoing second wave of Coronavirus across the country, the Indian Army had augmented its health infrastructure throughout its nationwide network. Let's have a lot at what has been done so far by the Indian Army in fight against the pandemic.
Capacity Enhancement (Military Hospitals) in last one month
Oxygenated Beds: 1821 beds to 4851 beds.
Oxygen Storage Plants: 24 to 47
Oxygen Generation Systems (concentrators): 93
Pediatric beds: 1223 beds
Augmentation of Health Infrastructure

Sardar Vallabh Bhai Patel Covid Hospital (Delhi)
The 500 bed Sardar Vallabh Bhai Patel Covid Hospital near the New Delhi Airport started functioning from 19 April 2021. It has a mix of ICU and HDU beds and consistently, the bed occupancy ranges from 98-100%.

122 Medical Officers, 48 Nursing Officers and 120 paramedical staff from the Armed Forces are performing their duties with utmost dedication. Over 1500 civilians have been treated till date.

Base Hospital (Delhi)
Base Hospital is a 505 oxygenated and 400 normal bedded COVID hospital, located in Delhi Cantt. Wef 01 Apr 2021, it has been opened for all veteran COVID patients as well. Battle Field Nursing Assistants have been made available, in addition to Medical Officers and Nursing Assistants for tackling enhanced work load.
In order to provide access of information regarding patients under treatment, test results and various advisories, a Web Portal has been activated. The Portal can be accessed at https://dainstitutes.in/bhdcportal.nsf
Ahmedabad (Gujarat)
The Armed Forces Dhanvantri Covid Care Hospital at Ahmedabad is a 900 bed facility working with support from the State machinery. About Army personnel 370 Army personnel including Medical Specialists, Medical Officers, Nursing Officers and technical support staff moved from various parts of the Country to serve at the hospital. Over 1400 civilians have been treated till date.
Atal Bihari Vajpayee Covid Hospital (Lucknow /UP)
A 500 bed COVID facility has been established at Lucknow. Indian Armed forces have provided 30 Medical Specialists, 28 Medical Officers, 51 Nursing Officers, 110 Nursing Assistants/Technicians & 79 Support Staff. Over 600 civilians have been treated till date.
Varanasi (UP)
A Hospital infrastructure of 750 beds including 250 ICU beds hospital at Varanasi has been made functional since 10 May 21. Over 400 civilians have been treated till date.
Patna (Bihar)
A 500 bedded hospital including 100 ICU beds has been made functional at ESI Hospital, Bihta, Patna. The IA has mobilised two Field Hospitals from North East by air to Patna to assist the government in fighting the recent surge of COVID cases in the State.
Prayagraj & Lucknow (UP)
Army has provided an additional 100 beds COVID facility each at Lucknow and Prayagraj in Uttar Pradesh to cater to the surge in cases.

Pune (Maharashtra)
60 ICU beds with specialist medical teams are provided at Pune for civil COVID patients.
Chandigarh (Punjab)
Indian Army has set up a 100 bedded COVID hospital at Punjab University, Sector 25, Chandigarh.
Patiala (Punjab)
Indian Army has set up an 83 bedded COVID hospital at Govt Rajendra Hospital, Patiala. 30 BFNAs have been provided to Patiala adm for hosp management.
Jalandhar (Punjab)
Two service ambulances attached with ECHS, Polyclinic for evacuating ECHS beneficiaries.
Srinagar (UT J&K)
Indian Army and UT Administration of J&K, have jointly operationalised a 250-bed Dedicated COVID Health Care Centre at Budgam, Srinagar. Equipped with a 20 bed state-of-art High Dependency Unit and 230 bed post-critical care ward, the facility augments government medical health infrastructure significantly.
Baramulla (UT J & K)
20-bed High Dependency Unit (HDU) set up in Baramulla(J&K).

Uri (UT J & K)
20-bed High Dependency Unit (HDU) set up in Uri (J&K).

Bhopal (MP)
150 bedded Adhoc Isolation facility has been established for civilians at Bairagarh, Bhopal. Indian Army is providing complete administrative & infrastructural support for the facility.
Gwalior (MP)
Indian Army has established a 40 bed Adhoc Isolation Facility for civilians to treat symptomatic civilian COVID patients at Gwalior. The facility will have expert Medical Staff & administrative support.
Jabalpur (MP)
100 bed Adhoc facility has been established for civilians at Jabalpur to cater for rising COVID cases.
Sagour (MP)
In Madhya Pradesh, a 40-bedded isolation facility has been set up along with ambulances at Sagour Military Station.
Barmer (Rajasthan)
Indian Army has provided a 100 beds facility at Barmer in Rajasthan to assist civil administration to cater to the rising cases of COVID patients.
Namkum (Jharkhand)
A 50-bed isolation facility has been established in Namkum, Jharkhand to help civil administration.
Kamptee (Maharashtra)
20 ICU beds along with specialist medical teams provided at Kamptee to help civil administration cater for rising Covid cases.
Faridabad (Haryana)
Indian Army has set up 100-bed hospital in Faridabad on 11 May 2021.
Pathankot (Punjab)
50 beds handed over to civ adm for augmenting COVID infrastructure.
Tezpur (Assam)
5 ICU & 45 Oxygen beds handed over to Tezpur Medical College.
Ranikhet (UK) Indian Army has set up 50-bed COVID centre in Ranikhet.
Dimapur (Nagaland) Emergency COVID facilities have been set up at Eden Hospital in Dimapur, Nagaland by Indian Army.
Barrackpore (WB) 120 beds prepared as per initial reqmt projected by West Bengal government.
Gangtok (Sikkim) 50 bed Isolation facility has been prepared.
Udhampur (J & K) 25 Oxygen concentrators procured for the underprivileged.
Shimla (HP) Indian Army handed over a 60 Bed facility at Walker Hospital, near Sanjauli to the district administration. Civil authorities to run the facility and provide staff to manage it.
Bengdubi, Telipara & Guwahati (Assam) 300 bed isolation facility at each location has been planned& will be established on orders.
Joshimath (UK Indian Army has set up a 50 bed Covid care centre.
Berinag/Pithoragarh (UK) Indian Army has set up a 50 bed Covid care centre.
Lansdowne (UK) Indian Army has set up a 50 bed Covid care centre.
Dehradun (UK) A 50 bed Covid care facility has been set up at Mothronwala, Clement Town for civs.
Gopalpur (Odisha) Indian Army has set up a 30 bed Covid care centre at Gopalpur.
Bengaluru (Karnataka) 100 bed facility being established by the Army in coordination with civil administration.
Sri Ganganagar (Punjab) A 50 bed COVID facility as an extension of Jan Sewa Hospital has been established to provide levelII COVID care including oxygen.
Oxygen Plants (Repairs)
Agra (UP) Indian Army repaired two civil oxygen plants at Agra, facilitating the resumption of supply of up to 1800 cylinders per day.
Nangal (Punjab) The Oxygen Plant at Nangal Dam was unused since 2011. An Indian Army team serviced the compressor & purifier portion and made the plant functional.
Etawah (UP) Indian Army Engineers and Jawans have resurrected unserviceable oxygen plants in Etawah.
Bulandshahar (UP) OxygenplantsinKhurja,Bulandshahar district has been made operational.
Saharanpur (UP) Off road Oxygen plants in Saharanpur have been made serviceable.
Jodhpur (Rajasthan) Indian Army responded to emergency call by MDM Hospital, Jodhpur for repairing leaking valves of an essential oxygen tanker to ensure seamless continued treatment.
Delhi 580 LPM cap Oxygen plant (Ex-Ireland) has been installed at Base Hospital, Delhi Cantt.
Rishikesh (UK) Indian Army is undertaking repairs of an old Oxygen plant at IDPL, Rishikesh. 90 % work is completed.
Meerut (UP) Indian Army reactivated a non-operational Oxygen plant at Rithani, Meerut. Additional availability of 20 Tonnes of Oxygen on daily basis ensured.
Srinagar (J&K) An Oxygen plant of Enn Dee Gases at Rangreth with capacity of 700 cylinders per day, which was lying under repairs for last five years has been made serviceable to increase the oxygen production capacity in the Valley.
Logistics Support
145 BOMs (Bogie Open Military) and 274 MBWTs (Military Bogie Well type) are being employed for the transportation of Oxygen. 381 oxygen tankers have been transported till date through 99 military special trains.
10 TATRA and 25 ALS vehicles are on standby to tranship medical supplies arriving at Palam airport. 200 drivers have been kept on standby for driving oxygen transporters to various parts of the country.
In assistance to Delhi Govt, IA facilitated unloading of oxygen containers from Oxygen Special Train and refilling oxygen into tanker at Army ground. Approx 100 MT Oxygen was refilled and sent to various hospitals.
Eight Ambulances made available to be placed for assistance to Veterans in NCR.
The Indian Army procured and delivered 100 bull-nose rings to Goa Medical College & Hospital (GMCH) within 24 hrs of receiving the request from the hospital. Bull nose fitting is a life saving device used for administering Oxygen to Covid Patients.
A Hunger Relief Centre has been established at Army Public School, Delhi Cantt. 500 migrants and laborers being provided two meals daily.
Miscellaneous
E-Sanjeevani: Ex-Defence doctors are providing online consultation to all citizens of the Country. This service can be availed by any civilian on the website https://esanjeevaniopd.in/.
Doctors on Contract DG AFMS is recruiting 400 ex-AMC/SSC Medical Officers released between 2017 and 2021 on contract basis for a maximum period of 11 months under the 'Tour of Duty' scheme.
Subansiri (Arunachal Pradesh). Indian Army along with medical team from Daporijo conducted vaccination for nearly 300 residents of border villages of Upper Subansiri district.
Assured Decent Last Rites
Army Units and Fmns are working round the clock to ensure decent last rites for serving personnel, veterans & their dependents who have succumbed to the pandemic.
All aspects of the cremation are handled by Special Cells created under the Local Military Commander. Special hearse vans have been hired, to ensure that the family is provided full support for a hassle free cremation.
In cases where it is not possible to get the mortal remains to the cremation site, necessary coordination is being done with the state/ district administration to ensure proper last rites. And where no family member is available to handle the last rites, this solemn duty is also being undertaken by Army Units.
---