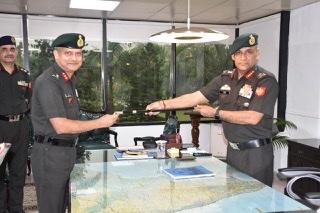 Chennai: Lieutenant General A Arun has taken over the reins of Dakshin Bharat Area as the General Officer Commanding recently at Chennai.
Dakshina Bharat Area was previously known as Andhra, Tamil Nadu, Karnataka and Kerala Area.
He takes over the new appointment after a successful tenure as the Director General, Strategic Planning at the Army Headquarters.
General Arun is a scholar General and an intuitive leader who has excelled whilst leading troops and in contributing to the cause of nation building.
The General is well known to many in Chennai as an individual passionate about character building, personality development, leadership and change creations, having conducted numerous workshops and talks.
Born in June 1964 at Dindigul, Madurai, the officer volunteered to join the National Defence Academy in Jan 1982, despite having secured an All India Rank of 13 in IITJEE.
Commissioned into 8 GRENADIERS on 14 December 1985, he is a graduate of the Defence Services Staff College, Wellington, India, Centre for Defence and Strategic Studies, Canberra, Australia and National Defence College, New Delhi.
Across 35 year of illustrious service, the General Officer has fulfilled diverse challenging roles to include raising and commanding a Rashtriya Rifles Battalion in Pulwama (J&K), Command of Rashtriya Rifles Sector in Handwara and a Mountain Division in North East India.
Seriously wounded in operations in Jammu and Kashmir, the General is a recipient of the Sena Medal for Gallantry, Yudh Seva Medal for Outstanding Leadership in conflict, the Vishisht Seva Medal for distinguished leadership and outstanding service, and the Chief of Army Staff's Commendation four times.
The General Officer has held an envious profile of appointments during his distinguished career, both in operations and peace.
He has vast experience in planning and delivery of personnel management and logistics in International Task Forces in Cambodia and Sierra Leone and short term projects in forecasting and structuring of large coalitions including significant civilian components at the United Nations Headquarters in New York.
He attended the prestigious Senior Mission Leaders Course conducted by United Nations in Geneva, Switzerland.
He is multifaceted with having received multiple Masters Degrees in Defence, Strategic Management, Nation Building and Conflict Prevention and Creative Writing.
The General Officer is happily married to Mrs Roopa Arun who is currently the founder Principal at The Cambridge International School, Bengaluru.
General and Mrs Arun are blessed with a daughter, Zephyr who is presently pursuing final year of her education.
---