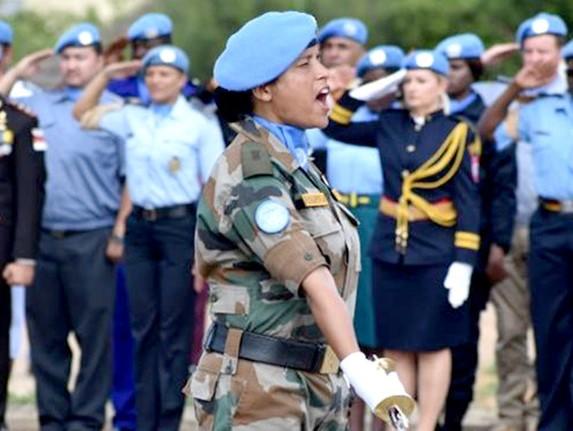 New Delhi: Indian Army Officer Major Suman Gawani, who served as a women peacekeeper with the United Nations Mission in South Sudan (UNMISS) in 2019 became the first Indian Peacekeepers to bag the prestigious "United Nations Military Gender Advocate of the year Award" on Friday.
She received the award from the UN Secretary General Mr Antonio Guterres during an online ceremony being organised at the UN Headquarters in New York on the occasion of International Day of United Nations Peacekeepers.
Expressing happiness at seeing her work recognized, Major Gawani noted that, "whatever our function, position or rank, it is our duty as peacekeepers to integrate an all-genders perspective into our daily work and own it, in our interactions with colleagues as well as with communities".
Along with her, a Brazilian Naval Officer Commander Carla Monteiro de Castro Araujo was also presented with same award.
Commending the two women peacekeepers, UN chief António Guterres described them as powerful role models.
"Through their work, they have brought new perspectives and have helped to build trust and confidence among the communities we serve", he said.
"Through their commitment and innovative approaches, they embrace a standard of excellence that is an inspiration to all blue helmets everywhere. As we confront today's challenges, their work has never been more important or relevant," the UN Chief added.
Major Suman served as a Military observer in UNMISS from November 2018 to December 2019, Indian Army Spokesperson Col Aman Anand said.
While at the mission, she was the principal focal point of contact for gender issues for Military Observers in the mission.
The officer encouraged participation in joint military patrols to maintain gender balance, irrespective of the hardships under extreme field conditions.
She visited various mission team sites across South Sudan to integrate gender perspective into the planning and military activity in the mission.
The officer was selected to attend a specialised training on Conflict Related Sexual Violence (CRSV) at Nairobi and participated in various UN forums to demonstrate how a gender perspective can help in protecting civilians, especially from conflict related sexual violence.
Apart from supporting the UNMISS Force initiatives, she also trained the South Sudan government forces on CRSV related aspects.
The officer also commanded the UN Peacekeepers Day Parade organised at UNMISS, where she commanded twelve contingents of UNPOL, Military and Civilians.
The award, created in 2016, recognizes the dedication and effort of individual military peacekeepers in promoting the UN principles on Women, Peace and Security in peace operations.
Women peacekeepers are nominated by the heads and force commanders of peace operations.
---