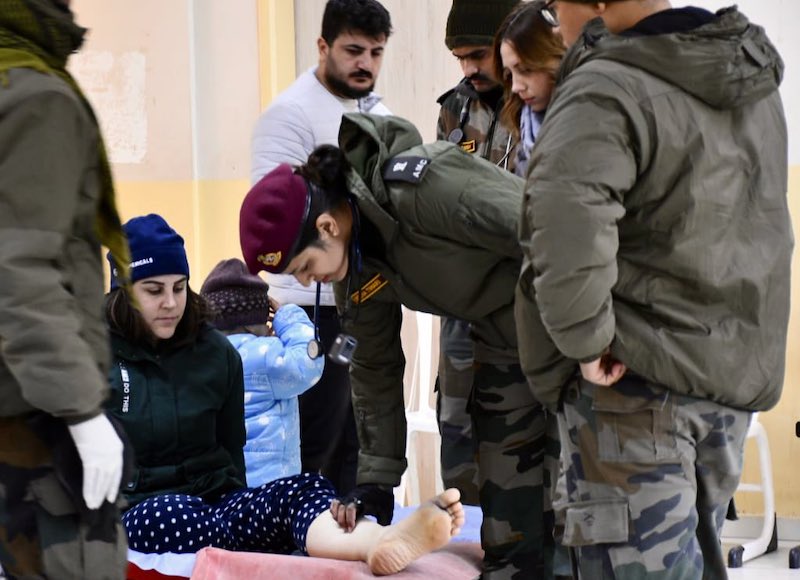 An Indian Army medical officer tending an injured girl in Turkey. (Photo: Indian Army)
New Delhi: The Indian Army chief, General Manoj Pande, applauded the force's medical team for rendering humanitarian assistance and disaster relief to earthquake-hit Turkey, on Tuesday. He said the Army was proud of the team and asserted that the mobilization of a field hospital in a short time indicates the service's operational preparedness.
It may be noted that the Agra-based 60 Para Field Hospital was mobilized and dispatched to Turkey's quake-hit Iskenderun, Hatay within hours, on February 7, where it quickly set up a field hospital and started treating the injured rescued from the debris.
#OperationDost

General Manoj Pande #COAS interacted with the team of 60 Para Field Hospital on return from #OperationDost in #Türkiye. #COAS commended them for their selfless humane service and creating a special bond between the citizens of #Türkiye & #India. #IndianArmy pic.twitter.com/qJqSWRHmHi

— ADG PI - INDIAN ARMY (@adgpi) February 21, 2023
The Army chief said this at an event hosted at Nalanda Auditorium in the premises of the Army Base Hospital at Delhi cantonment, after interacting with members of the medical team, which returned to the country on Monday.
---
Read also: Indian Army field hospital treats over 3,600 in Turkey
---
Gen Pande said, "We are proud of our medical team for rendering humanitarian assistance and disaster relief to quake-hit people in Turkey."
Later, talking to reporters, Gen Pande said, "Within a short period of time, the Indian Army medical team established a 30-bed field hospital in Iskenderun region. The timely decision and excellent inter-agency coordination among all stakeholders made them among the first few medical teams to reach TTurkey." He then added, "Mobilisation of field hospitals in such a short time in Turkey also indicates the operational preparedness they maintain at all times."
---
Read also: Syria-Turkey quake – India's 'Operation Dost' in full swing
---
"Our medical team is extremely appreciative of the assistance and cooperation extended to them by Turkish citizens," Gen Pande said.
India had launched "Operation Dost" to extend assistance to Turkey and Syria after the two countries were hit by a 6.7-magnitude earthquake on February 6, which has killed nearly 50,000 people, so far.
---