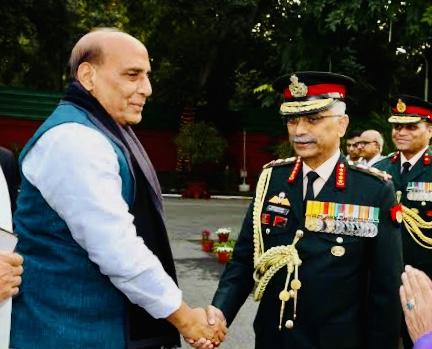 Rajnath Singh and Gen Naravane (File Pic)New Delhi: In the backdrop of clash occurred between Indian and Chinese soldiers in Pangong Tso areas in eastern Ladakh, Indian Army chief Gen MM Naravane on Tuesday briefed Defence minister Rajnath Singh here about the prevailing security situation along the Line of Actual Control (LAC).
"India Army chief has briefed the defence minister about the current situation along LAC. More meeting likely to be there in second half again," Sources in the defence establishment said here on Tuesday.
A Brigade Commander-level talks along the Line of Actual Control (LAC) in eastern Ladakh is underway, following the incident on the southern bank of Pangong Tso.
The military talks began at Chushul earlier this morning to discuss the prevailing situation on the southern bank of the Pangong lake, part of which lies in Indian territory of Ladakh.
On August 29-30 night, a fresh clash between the troops of two countries on the southern bank of Pangong Tso.
An Indian Army statement issued on Monday said, "On the night of 29/30 August, the People's Liberation Army (PLA) troops violated the previous consensus arrived at during military and diplomatic engagements amid the ongoing standoff in eastern Ladakh."
The PLA troops carried out provocative military movements to change the status quo, said the statement.
"Indian troops pre-empted this PLA activity on the Southern Bank of Pangong Tso Lake, undertook measures to strengthen our positions and thwart Chinese intentions to unilaterally change facts on ground," it added.
It further said that the Army is committed to maintaining peace and tranquility through dialogue, but is also equally determined to protect its territorial integrity.
The area has remained a concern since the stand-off between the two countries began in early May.
India has moved in additional troops than what was already deployed in wake of the clash.
---