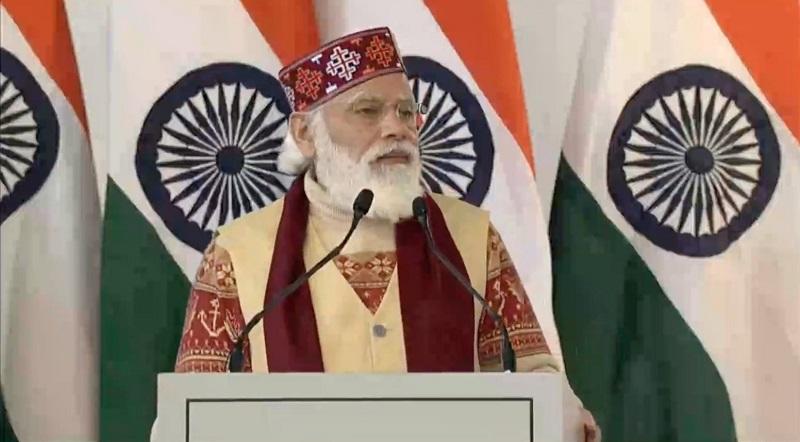 PM Modi inaugurates Atal Tunnel in Himachal Pradesh
Rohtang: Describing the moment as a "historic day" and one that heralded the realisation of former Prime Minister Atal Bihari Vajpayee's dream, Prime Minister Narendra Modi on Saturday said the Atal Tunnel would strengthen India's border infrastructure.
Speaking after the inauguration of world's longest highway Atal Tunnel here in Rohtang, the prime minister said the tunnel has not only realised Bharatiya Janata Party (BJP) leader Atal Bihari Vajpayee's dream but has also ended the decades-long wait of the people of Himachal Pradesh.
The 9.02km long Atal Tunnel, which connects Manali to Lahaul-Spiti valley in the state, will reduce the travelling time by 4-5 hours and distance by 46 kms.
Border Infrastructure के विकास के लिए पूरी ताकत लगा दी गई है।

सड़क बनाने का काम हो, पुल बनाने का काम हो, सुरंग बनाने का काम हो, इतने बड़े स्तर पर देश में पहले कभी काम नहीं हुआ।

इसका बहुत बड़ा लाभ सामान्य जनों के साथ ही हमारे फौजी भाई-बहनों को भी हो रहा है: PM

— PMO India (@PMOIndia) October 3, 2020
On the occasion, Mr Modi was accompanied by Defence Minister Rajnath Singh, Chief of Defence Staff Gen Bipin Rawat, Himachal Pradesh Chief Minister Jairam Thakur, Union minister of state for finance and corporate affairs Anurag Singh Thakur and the Border Road Organisation's director general Lt Gen Harpal Singh at the inauguration ceremony.
The prime minister said the tunnel will also become the lifeline for Leh-Ladakh and it will remain open throughout the year as opposed to the valley being cut off for about six months every year amid heavy snowfall.
Read Also: PM Modi inaugurates world longest strategic Atal Tunnel connecting Manali to Lahaul-Spiti valley
The strategically important tunnel will also strengthen the country's border infrastructure, Modi emphasised. "Be it bridges, tunnels, or road construction, development of border infrastructure will not only benefit the common man but also help the military," he said.
Hailing his government's "Make in India" initiative, the prime minister said big reforms have been introduced to ensure modern weapons are produced in the country.
During his address, he also informed that work on another bridge Kosi Mahasetu, the foundation of which was laid by Vajpayee in Bihar, has been expedited since 2014.
The Rs 3300 crore-Atal Tunnel, named after former prime minister, built with ultra-modern specifications in the Pir Panjal Range of the Himalayas at an altitude of 3,000 metres from the mean sea level.
Read Also: Atal Tunnel dedicated to troops and locals: Rajnath Singh
The single tube double lane tunnel with a roadway of 8 metres and an overhead clearance of 5.525 metres is horse-shoe shaped and has been designed for a traffic density of 3,000 cars per day and 1,500 trucks per day with a maximum speed of 80 km/hr, according to a statement by the Prime Minister's Office.
He also thanked the BRO and other professionals involved in the Atal Tunnel making for transforming the impossible into a reality.
PM Modi said, "By 2013-14, only 1300 meters of tunnel was built; experts say had work been done at this speed, it would have been completed by 2040."
PM Modi further added, "Nothing more important to us than protecting country; but there was an era when defence interests were compromised."
LIVE : प्रधानमंत्री श्री नरेंद्र मोदी जी अटल टन्नल, रोहतांग का लोर्कापण कर रहे हैं।#Ataltunnel@narendramodi @BJP4Himachal @BJP4India https://t.co/nB4zPv0Vpz

— Jairam Thakur (@jairamthakurbjp) October 3, 2020
In an indirect reference to border aggression by China, Defence Minister Rajnath Singh said, "Atal Tunnel is going to help the public in general during peacetime while it will help our armed personnel during the war time."
He thanked the Border Road Organisation (BRO) for completing the project within the allocated fund.
Himachal Pradesh Chief Minister Jairam Thakur said, "The vision of former Prime Minister of India Atal Bihari Vajpayee is getting complete today. This tunnel will help tourism to grow as it will make transportation smooth and fast in major tourist spots in the region. In fact, some more tourism spots will emerge due to the Atal tunnel."
He thanked PM Modi and Defense Minister Rajnath Singh for taking personal interest in getting the tunnel inauguration done amid COVID-19 challenge.
---