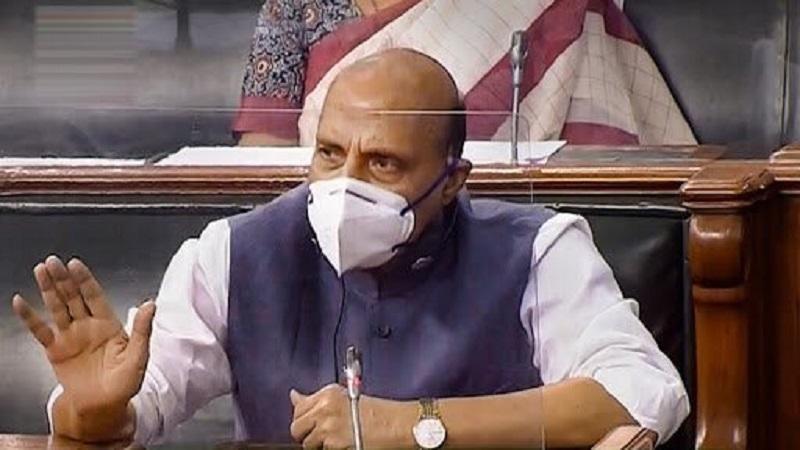 Defence Minister Rajnath Singh in Rajya Sabha
New Delhi: Defence minister Rajnath Singh on Thursday reiterated that there would be no change in patrolling pattern of Indian armed forces along the Line of Actual Control (LAC) with China where several friction points come up since April as and when the China's PLA started amassing equipment and troops.
In his reply to members of Opposition bench in Rajya Sabha after his statement on "Development on our border in Ladakh", the minister said that a meeting would be called for leaders of political parties to brief them.
Earlier, Rajya Sabha Chairman Venkaiah Naidu observed and suggested Mr Singh to call a meeting of senior leaders to discuss the India-China border row issue. Later, Senior Congress leader Anand Sharma also demanded for the same.
Mr Singh said, "I have taken into the consideration."
When former defence minister AK Anthony asked that the Chinese Army are stopping Indian armed forces to patrol, the minister said, "No power in the world can stop Indian Army to patrol."
चीन ने गलवान में हमारी troops की traditional patrolling pattern में व्यवधान शुरू किया, जिसके कारण face-off की स्थिति उत्पन्न हुई। हमने उन्हें यह अवगत करा दिया, कि इस प्रकार की गतिविधियाँ, यथास्थिति को एकतरफा बदलने का प्रयास हैं।ये प्रयास हमें किसी भी सूरत में मंजूर नहीं है। pic.twitter.com/rNYoS5np6q

— Rajnath Singh (@rajnathsingh) September 17, 2020
On a question by the opposition that the Chinese are not allowing Indian soldiers to patrol traditional posts, he said, "That is the reason for our fight with China."
Read Also: India remain prepared to deal with all contingencies: Rajnath on India-China border row
After his statement, about a dozen of opposition leaders sought clarifications from the minister and stood unanimously with the government and the armed forces and appreciated the valour displayed by the soldiers in protecting the country's boundary.
In his statement, the minister said China does not recognise the traditional customary alignment of the LAC with India and that the recent conduct of PLA troops reflects a disregard of bilateral agreements between the two sides.
He also said that India's timely actions had foiled the attempts to change the status quo in Pangong Tso.
"I would like to assure Parliament that India will not step back from taking any harsh decision and that our forces are in a better position to retaliate," Mr Singh said adding that China has built up war machines and troops near LAC.
During his address, Singh also said that China continues to illegally occupy a large area of Ladakh.
"China continues to be in illegal occupation of approx 38,000 sq. kms in the Union Territory of Ladakh. In addition, under the so-called Sino-Pakistan 'Boundary Agreement' of 1963, Pakistan illegally ceded 5,180 sq. km. of Indian territory in PoK to China. China also claims approximately 90,000 sq. kms. of Indian territory in the Eastern Sector of the India-China boundary in Arunachal Pradesh. Chinese actions reflect a disregard of our various bilateral agreements," he added.
Speaking in the Rajya Sabha https://t.co/aWRjvb8cZ3

— Rajnath Singh (@rajnathsingh) September 17, 2020
Stressing that India believes in "peaceful coexistence", he said that the armed forces have shown 'sayyam and shaurya' (patience and bravery).
"The amassing of the troops by China goes against the 1993 and 1996 Agreements. Respecting and strictly observing LAC is the basis for peace and tranquility in the border areas. While our armed forces abide scrupulously by it, this has not been reciprocated by the Chinese side."
The defence minister assured the house that the armed forces would face the current challenge successfully.
Read Also: Parliament: Defence minister Rajnath Singh on boundary issue with China in eastern Ladakh
"As we all know earlier too there have been standoffs which were resolved peacefully. Although, this year it is different, still we are committed to peaceful resolution. But I want to tell the house we are ready to face all situations," Mr Singh said.
He also said India remains committed to resolving the current issues in "our border areas through peaceful dialogue and consultations."
"I met my Chinese counterpart on 4th September in Moscow and had a detailed discussion regarding the current situation with him. I conveyed in clear terms our concerns related to the actions of the Chinese side, including amassing of large number of troops, their aggressive behavior and attempts to unilaterally alter the status quo that were in violation of the bilateral agreements," he said.
सदन के माध्यम से मैं, हमारे 130 करोड़ देशवासियों को आश्वस्त करना चाहता हूं, कि हम देश का मस्तक झुकने नहीं देंगे | यह हमारा, हमारे राष्ट्र के प्रति दृढ संकल्प है: रक्षा मंत्री

— रक्षा मंत्री कार्यालय/ RMO India (@DefenceMinIndia) September 17, 2020
"I also made it clear that even as we wanted to peacefully resolve the issue and would like the Chinese side to work with us, there should also be no doubt about our determination to protect India's sovereignty and territorial integrity," the minister added.
"My colleague, Shri Jai Shankar, the External Affairs Minister, has thereafter met the Chinese Foreign Minister in Moscow on 10th September. The two have reached an agreement, which, if implemented sincerely and faithfully by the Chinese side, could lead to complete disengagement and restoration of peace and tranquility in the border areas," Mr Singh said.
---