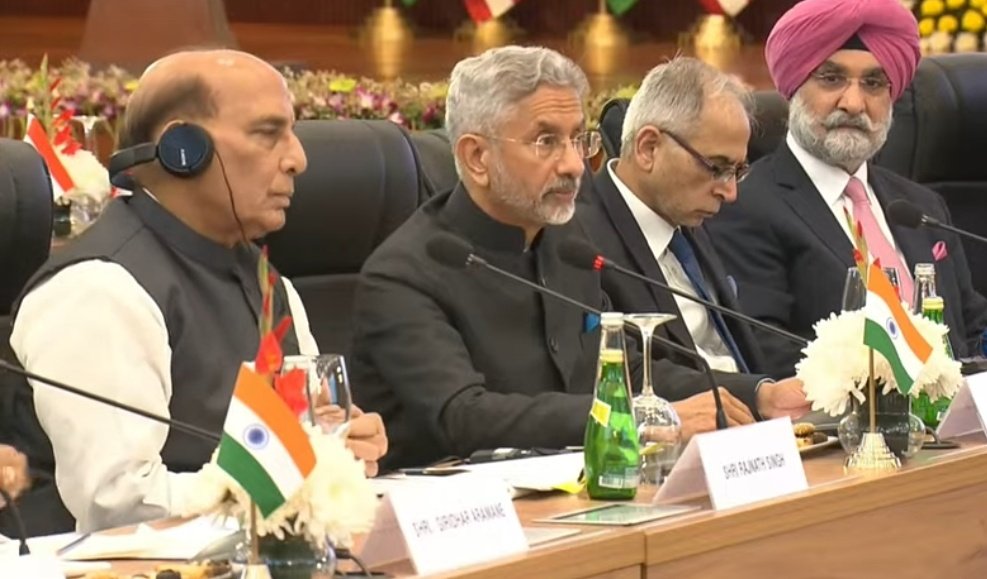 Rajnath Singh, Jaishankar at 2+2 ministerial dialogue in Delhi
New Delhi: The 2+2 Ministerial Dialogue between India and the United States began in Delhi on Friday with Indian defence minister Rajnath Singh stating that the partnership between both countries is critical for ensuring a free, open and ruled-based Indo-Pacific region.
During the India-US 2+2 Ministerial Dialogue, Defence Minister Rajnath Singh said: "...The India-US bilateral relationship has seen a growing convergence of strategic interests and enhanced defence, security and intelligence cooperation. Defence remains one of the most important pillars of our bilateral relationship. Your visit to India is at a time when India and US are closer than ever before."
"In spite of various emerging geopolitical challenges, we need to keep our focus on important and long-term issues. Our partnership is critical for ensuring a free, open and rules-bound Indo-Pacific region. We look forward to closely working with the US across the domains of capability and for partnerships which can address challenges..."
India's foreign minister S Jaishankar said: "The highlight this year was the PM's state visit to the United States in June, it has opened a new chapter in our relationship. President Biden's visit to Delhi in September contributed immensely to the positive trajectory of our ties. His support was key to ensuring productive outcomes at the G20 summit."
"The dialogue today will be an opportunity to advance the vision of our respective leaders. Building a forward-looking partnership while we construct a shared global agenda. In the 2+2, we will undertake a comprehensive overview of cross-cutting strategic, defence, and security ties, technology and supply chain collaborations and people-to-people exchanges..."
"Our trade is today in excess of USD 200 Billion... 2,70,000 Indian students study in the United States, and we have a diaspora of 4.4 million. A key focus of our discussions today will be the Indo-Pacific region...," Jaishankar said.
US Secretary of State Antony J. Blinken said: "When President Biden hosted PM Modi at the White House in June, both of our leaders set out a very ambitious agenda to build an even stronger and even more comprehensive strategic partnership that delivers for our people as well as for the region and we believe, for the world and together we have been taking very concrete steps to deliver on the vision that our two leaders put forward."
"We are promoting a free and open, prosperous, secure and resilient Indo-Pacific, including by strengthening our partnership through the QUAD with Japan and Australia. One significant way we're doing that is by enhancing maritime domain awareness, sharing commercial satellite data with countries in the region to boost their capacity, for example, to combat illegal phishing, piracy, and drug trafficking. We're also coordinating humanitarian relief and disaster response efforts in the Indo-Pacific..."
Blinken further said: "...We're harnessing together the power of innovation to make our economies more resilient and to make our communities more secure while expanding inclusive economic opportunity. That's evident in the cooperation on semiconductors and advanced biotechnology, on our unprecedented investments in deploying clean energy at scale in our countries as well as across the region, and our joint research and exploration projects in space..."
"Finally, we're deepening the remarkable ties between our people, which is really at the heart of everything. Exploring new educational exchanges, even building steps to facilitate travel between our countries, reducing VISA wait times...When Indians and Americans study together, work together, and collaborate together, the possibilities for progress are infinite...," the US Secretary said.
US Secretary of Defence Lloyd Austin said: "We are meeting at a time of great momentum...In the face of urgent global challenges, it's more important than ever that the world's two largest democracies exchange views, find common goals, and deliver for our people. We've made impressive gains in building our major defence partnership over the past year, and that will help us contribute even more together to the cause of peace and stability."
"We're integrating our industrial bases, strengthening our interoperability, and sharing cutting-edge technology. The scope of our cooperation is vast, it stretches from the seabed to space. The strength of our partnership is rooted in the people-to-people ties that are the heart of our long friendship together, our diplomats, entrepreneurs, and students are expanding our partnership in new domains, including clean energy, artificial intelligence, and semiconductors. Our increasingly strong ties give us all hope for the future of this partnership and for our common efforts toward a more secure world...," Austin said.
Earlier, the ministry of external affairs on X said: "…. Productive discussions on strengthening bilateral partnership and working together on regional & global issues lie ahead."
The 2+2 will enable a high-level review of progress being made in cross-cutting aspects of defence and security cooperation, technology value chain collaborations and people-to-people ties.
Both sides will also take stock of contemporary regional issues and exchange views about shared priorities for augmenting cooperation in multilateral platforms, and through frameworks such as Quad, it said.
---