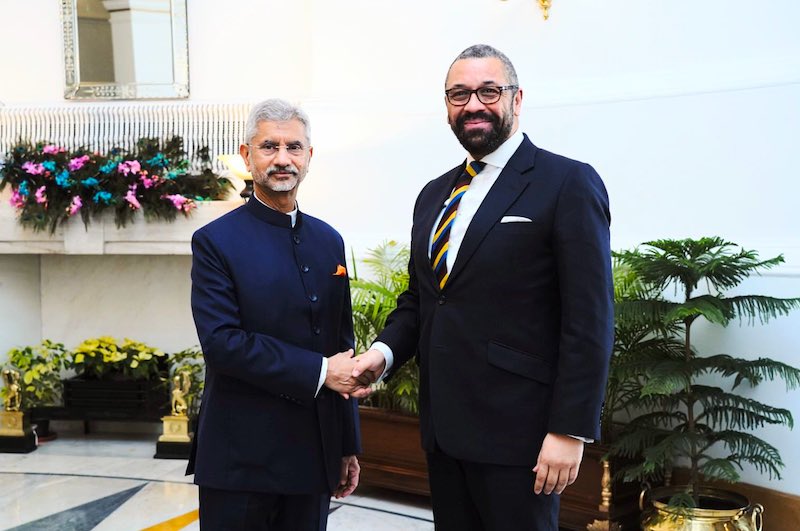 S Jaishankar with James Cleverly in New Delhi, on March 1, 2023. (Photo: Twitter/@DrSJaishankar)
New Delhi: Britain's foreign secretary, James Cleverly, is in India for the G20 foreign ministers' meeting, which will take place here on Thursday. On Wednesday, Cleverly met the Indian foreign minister, S Jaishankar, where they discussed bilateral issues, including the progress on the "UK-India 2030 Roadmap", which aims to bolster the two countries' ties in defence and security, trade, and investment.
Later on Wednesday, Cleverly is also slated to inaugurate a new scheme – "Young Professionals Scheme" – at the Indian Institute of Technology, Delhi. The scheme would allow up to 3,000 young Britons and 3,000 young Indians to live and work in each other's countries for up to two years.
Began the morning with a bilateral meeting with Foreign Secretary @JamesCleverly of the UK.

Reviewed the progress in our relationship since our last discussion. Noted in particular the commencement of the Young Professional Scheme. pic.twitter.com/R3aUvX1U4Z

— Dr. S. Jaishankar (@DrSJaishankar) March 1, 2023
It may be noted that the British home secretary, Suella Braverman, had announced the scheme earlier this week.
In a media release, the British high commission in New Delhi, on Wednesday, said Cleverly will also announce the creation of the UK's first tech envoy to the Indo-Pacific region, "who will boost ties with India as a priority." It said the envoy is the second of its kind to be announced by Britain after the appointment of a tech envoy to the United States in late 2020. The release said the move demonstrates London's commitment to the region and tech diplomacy.
In a statement, Cleverly said: "India is a hugely important partner to the UK and the deeper ties we are forging now will help to grow the UK economy and boost our industries for the future. This landmark migration scheme will enable the brightest and best in both our countries to benefit from new opportunities.
"India is also an emerging global leader on technology and there are immense opportunities for better collaboration between us in this sector. That is why we will be sending our first Tech Envoy to the Indo-Pacific region, to maximise the tech expertise of both countries," the British foreign secretary added.
The high commission release also said that on Thursday, Cleverly will attend the G20 foreign ministers meeting to work with partners to advance global efforts on food and energy security, climate change and development. He will also continue to call Russia out at the G20 and work with partners to mitigate the global impacts of Russian aggression in Ukraine.
The foreign secretary will also address an India-Europe business event in the capital where he will reaffirm the UK's commitment to conclude a free trade agreement with India.
---