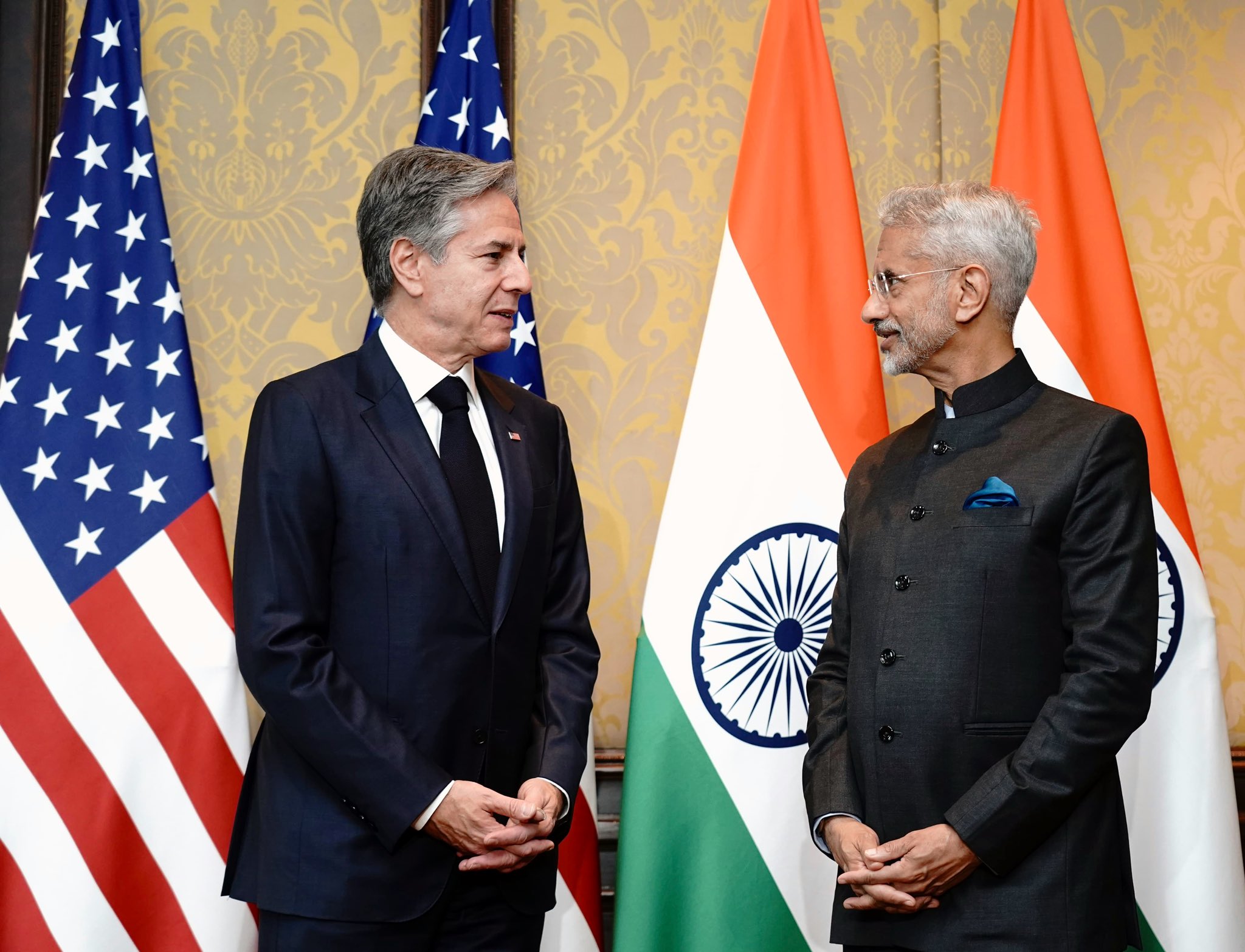 Blinken and Jaishankar at India-US bilateral meeting in Delhi
New Delhi: The situation arising out of the Hamas-Israel conflict and ways to further deepen the India-US strategic partnership figured in talks between External Affairs Minister S Jaishankar and US Secretary of State Antony Blinken on Friday morning.
The Jaishankar-Blinken meeting took place ahead of the fifth edition of India-US '2+2' defence and foreign ministerial ministerial dialogue.
In a post on 'X', the external affairs minister described his talks with his US counterpart as "open and productive".
"Pleased to meet with Secretary of State @SecBlinken this morning. An open and productive conversation on further developing our strategic partnership. Also spoke about West Asia, Indo-Pacific and other regional issues," he said.
In the last couple of weeks, the US Secretary of State has been engaged in hectic diplomacy on the Israel-Hamas war.
Blinken and US Defence Secretary Lloyd Austin are in Delhi for the '2+2' dialogue which is aimed at taking forward India-US futuristic roadmap for deeper strategic cooperation.
The Indian delegation at the talks will be led by Defence Minister Rajnath Singh and Jaishankar.
The defence ministry said a number of strategic, defence and technology issues are expected to be discussed at the '2+2' dialogue and the bilateral meeting between Singh and Austin.
The Ministry of External Affairs (MEA) said the '2+2' dialogue will enable a high-level review of progress being made in cross-cutting aspects of defence and security cooperation, technology value chain collaborations and people-to-people ties.
"The ministers will take the opportunity to progress the futuristic roadmap for the India-US partnership as envisioned by Prime Minister Narendra Modi and President Joseph Biden, in their discussions in June and September this year," the MEA said two days back.
It said both sides will also take stock of contemporary regional issues and exchange views about shared priorities for augmenting cooperation in multilateral platforms, and through frameworks such as Quad.
(With inputs from agencies)
---