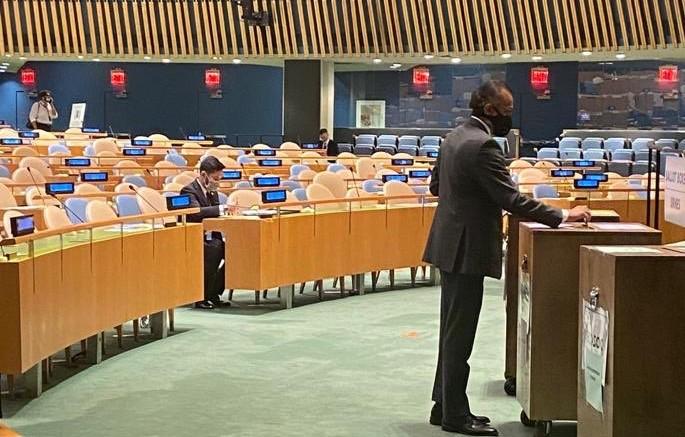 United Nations: India on Thursday got elected as a non-permanent member of the 15 member United Nations Security Council (UNSC) from the Asia-Pacific category for 2021-22 term. This is for the 8th time that India has been elected to UNSC.
Among the seven nations vying for the seat, India was standing unopposed from the block for 2021-22 term. This is for the eighth time that India has been elected to the expanded security council.
Permanent Mission of India to the United Nations in a tweet said, "Member States elect India to the non-permanent seat of the Security Council for the term 2021-22 with overwhelming support. India gets 184 out of the 192 valid votes."
Indian Ambassador to UN TS Tirumurti said in a video tweet, "I am truly delighted that India has been elected as a non-permanent member of the UNSC for 2021-22. We have received overwhelming support and I am deeply humbled by the tremendous confidence which the member states in the United Nations have reposed in India."
" Election to the UNSC is a testament to Prime Minister Modi's vision and inspiring global leadership, particularly in the time of COVID-19. The outcome is the reflection of the strong campaign led by External Affairs Minister S jaishankar….," he added.
"India will become the member of the security council at a critical juncture and we are confident that in the COVID-19 and the post COVID world India will continue to provide leadership and a new orientation for reformed multilateral system," the ambassador said.
India hopes to utilize its eighth term to further construct its case for a permanent seat in United Nations Security Council, something that it has been pushing throughout recent years along with other claimants such as Japan, Germany and Brazil.
India has been elected as a non-permanent member of the Council for the years 1950-1951, 1967-1968, 1972-1973, 1977-1978, 1984-1985, 1991-1992 and most recently in 2011-2012.
Earlier this month, External Affairs Minister S Jaishankar had laid out India's priorities and approaches when the country had another term on the Security Council.
"Reformed Multilateralism to reflect contemporary realities" will be one of India's priorities, the minister had said.
Each new Security Council member needs to win two-thirds of the votes cast -- meaning 128 votes if all 193 nations vote. Delegates could have to vote multiple times to certify a winner.
UN's Security Council has 15 members in a total of which, five are permanent members while 10 are non-permanent.
The permanent ones - called the "P-5"—are the United States, Russia, Britain, France and China. Half the non-permanent members are elected every year, each for a two-year term, starting January 1.
---