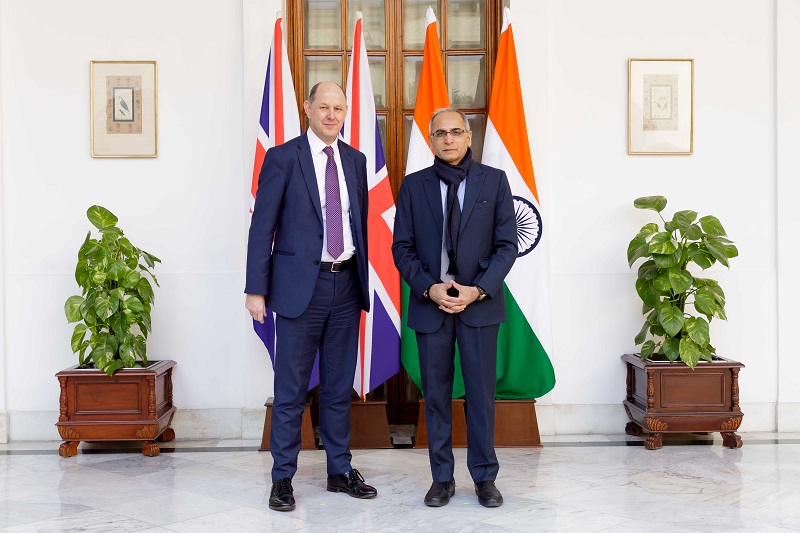 Sir Philip Barton and Vinay Mohan Kwatra (Photo: British High Commission)
New Delhi: India and the United Kingdom held their 15th foreign office consultations on January 16 in New Delhi, wherein the two sides discussed a range of issues, including early conclusion of a balanced and comprehensive India-UK Free Trade Agreement (FTA) that may intensify the economic engagement between the fifth and the sixth biggest global economies.
In the meeting, the Indian side was led by the foreign secretary, Vinay Mohan Kwatra, and the British delegation was led by Sir Philip Barton, permanent undersecretary, foreign, Commonwealth & development office (FCDO).
The last meeting was held in November 2020 in London.
The two democracies share a comprehensive strategic partnership, with the adoption of "Roadmap 2030" for future relations.
The two sides discussed issues like trade and economic cooperation, defence and security, science and technology, people-to-people relationship, health, and climate change.
It was appreciated that letters formalizing the Young Professional Scheme were exchanged on the occasion of Pravasi Bharatiya Divas on January 9, 2023, in London and the scheme would be launched on February 28, 2023.
India and the UK exchanged views on regional and global issues of mutual interest, including – Afghanistan, Ukraine, the Indo-Pacific, Commonwealth and United Nations. UK appreciated India's contribution at UN security council in 2021-22 as a non-permanent member and reiterated its support for UNSC reforms.
UK commended India's priorities as president of G20 this year as it looked forward to its participation.
Both sides agreed to maintain regular exchanges at political and senior official levels and hold the next FOC in London in 2024.
Barton said: "I am delighted to be here in New Delhi, at the start of 2023, to underline the UK's commitment to the Roadmap 2030 for deepening cooperation with India. Through our comprehensive strategic partnership, the UK and India are together playing a key role in tackling the biggest challenges facing the world today, including food and energy security, economic recovery post-Covid and preventing future pandemics."
"The UK and India are also increasingly working together multilaterally, including with the World Health Organization and the international community on potential malaria and Ebola vaccines. I was pleased to hear from foreign secretary Kwatra about India's ambitious plans for its G20 presidency. India is at the heart of the Indo-Pacific region, where half the world's people live and 50% of global economic growth is produced. The UK is committed to working closely with India in making its presidency a success."
During his visit to India, Sir Philip also met the external affairs minister, Dr S Jaishankar, in addition to a range of UK partners in country.
---