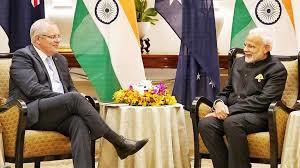 New Delhi: India and Australia will discuss issues relating to Indo-Pacific, global COVID-19 pandemic among others at the first ever virtual summit between Prime Minister Narendra Modi and his Australian counterpart Scott Morrison on June 4.
"As two democratic nations, India and Australia have developed an understanding of each other's perspectives on regional and global issues. We have a shared approach to a free open, inclusive, and prosperous Indo-Pacific. This has led to convergence of mutual interest in many areas. The relations are strong not only at the bilateral level, but also at the plurilateral level," a source in the government establishment said on Tuesday.
Australia has supported India's in a number of initiatives those include global initiatives such as ISA, CDRI and Indo-Pacific Oceans Initiative, membership of an expanded UNSC.
"In the recent past, Australia supported our membership for Australia Group, and Wassenaar Arrangement and favours India's membership of NSG," the source added.
This is the first time that India is holding a Virtual Summit. However, Australia has already done one such bilateral virtual summit with Singapore in March 2020.
The focus of the Summit would be on the positive trajectory in bilateral relations during discussions between the two prime ministers, who have already met on four occasions on the sidelines of multilateral meetings.
"India and Australia have very warm and friendly relations. The two nations have much in common, underpinned by shared values of pluralistic, Westminster-style democracies, Commonwealth traditions, the long-standing people-to-people ties, and sporting links. Our economies have many complementarities with potential to enhance bilateral trade and investment," the source added.
Relationship between the two nations was upgraded to a 'Strategic Partnership' in 2009.
"Australia has been supportive of India's position on cross-border terrorism and on asking Pakistan to take meaningful action against terrorist groups operating from its soil. Australia also co-sponsored UNSC resolution to declare Azhar Masood a global terrorist," the source said.
The economic engagement has been growing. The current trade levels are US$ 20.92 (2018-19).
India exported goods and services worth US$ 5.17 billion and imported goods and services worth US$ 15.75 in 2018-19.
Australia's cumulative investment in India is about US$ 10.74 billion whereas India's total investment in Australia is US$ 10.45 billion.
The Virtual Summit will be an opportunity for the two leaders to review the broad framework of the relationship in the context of their growing ties.
---