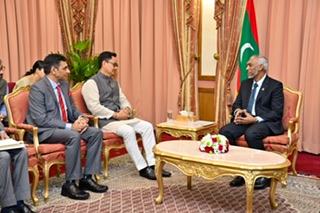 Kiren Rijiju with the Maldives President Mohamed Muizzu
New Delhi: On a day Maldivian President Mohamed Muizzu formally requested the Government of India to pull its military personnel presence in his nation, the Maldives National Defence Force (MNDF) used India gifted Dornier aircraft for evacuation of a 32-year-old lady who was in critical condition.
She was evacuated from from Th. Atoll Hospital to Male' City by MNDF.
As part of its "Neighbourhood First" policy, India has always been reach out to help the neighbouring countries, including Maldives.
During the outgoing president, Ibrahim Mohamed Solih regime from 2018-2023, Indian security forces had carried out more than 450 multifaceted mission to safeguard the maritime security of Maldives.
The year-wise break ups are as follows, 122 missions in 2022, 152 missions in 2021 and 124 missions in 2020.
Similarly, in the last five years, more than 500 medical evacuations were carried out by Indian personnel which led to saving of 523 Maldivian lives.
Of these, 131 evacuations were carried out this year, another 140 last year, and a further 109 in 2021.
Besides, India has also been the first responder for Maldives in any disaster scenario, including most recently during Covid-19 pandemic.
Union Earth Sciences Minister Kiren Rijiju, who is in Maldives to attend Muizzu oath taking ceremony, called on the newly sworn in president, on Saturday.
During their meeting, Muizzu asked Rijiju to withdraw the Indian defence personnel, citing the commitment he had made to his people during election campaign.
However, Muizzu acknowledged the significant role of the two helicopters in providing numerous emergency medical evacuations.
They also reviewed the progress of the implementation of various projects in the Maldives with the support of India.
Muizzu emphasised the importance of accelerating the Greater Male' Connectivity Project (GMCP), highlighted the importance of addressing and overcoming the issues delaying the project.
Muizzu, candidate for the Progressive Party of Maldives (PPM), secured 54 percent of the votes and defeated Ibrahim Mohamed Solih of the Maldivian Democratic Party (MDP).
Muizzu is widely seen as sympathetic to China's interests in the country, and less favourably disposed towards India, Maldives's giant neighbour and traditional security and economic partner.
His election victory hinged on a sustained anti-India campaign to outsize New Delhi's political and economic clout in the Maldives.
The Maldives sits in a strategically vital position in the middle of the Indian Ocean, astride one of the world's busiest east-west shipping lanes.
---