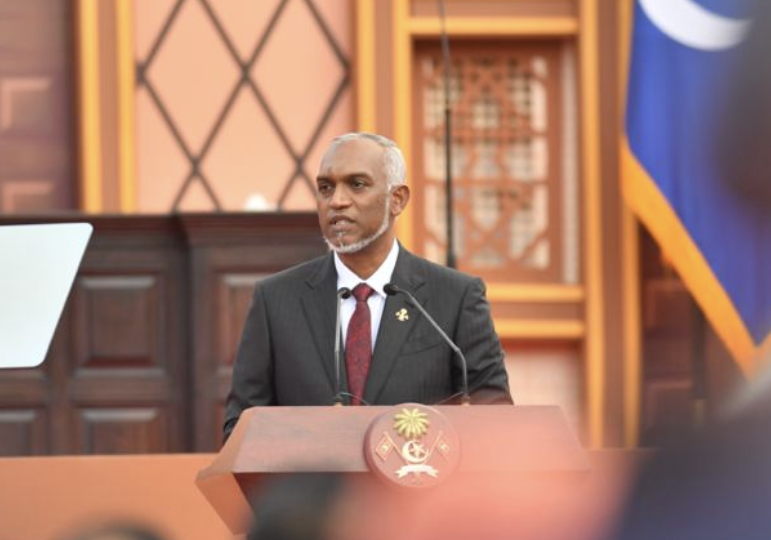 Mohamed Muizzu. (Photo: The Maldives President's Office)
New Delhi: The Maldives' newly elected president, Mohamed Muizzu, who was sworn into office on Friday, officially asked India to pull out all its military personnel stationed in his Indian Ocean atoll nation, on Saturday. This was one of the first decisions he took after assuming office, which was also among his pre-poll promises.
In a news release, the Maldives government said it relayed the message to Union minister Kiren Rijiju, who went to Male as India's representative for Muizzu's swearing-in ceremony. The Indian political leadership, including the prime minister, Narendra Modi, sent their greetings to Muizzu for being elected president and called for deepening of ties.
The Progressive Party of Maldives's Muizzu, who is known for his pro-China stance, swept to power in the Maldives in this year's presidential election beating the-then incumbent president, Ibrahim Mohamed Solih of Maldivian Democratic Party, with over 54 per cent votes. Solih is considered to be pro-Indian.
India has but a very small number of military personnel in the atoll nation, which is in India's strategic backyard. According to available figures, the number is around 75. They are there mainly to maintain the arms and other military equipment New Delhi gave to Male for its security purposes. It also includes some aircraft and patrolling boats.
---
Read also: Where Paras Dare – The untold story of Operation Cactus
---
India Sentinels talked to some defence and geostrategic experts on the development. Almost all of them said it is not going to significantly affect ties between New Delhi and Male. The Indian military personnel stationed in Male are mainly for maintenance purposes of the military equipment the Maldives has, especially those received from India. Hence, this decision is against the national interests of the Maldives itself.
Pooja Bhatt, a maritime geostrategy scholar, told India Sentinels that Muizzu's decision is driven by his desire to keep the Maldives' national interest first, which includes keeping the atoll nation free from entanglements of power rivalries in the Indian Ocean region. She said while Muizzu's decision might look like a step back in the bilateral ties between New Delhi and Male, the Indian military personnel are seen favourably in Male for their cooperation based vision and approach towards the IOR.
One foreign ministry official, who was in deputed in the Indian high commission in Male, said in the condition of anonymity that the anti-India rhetoric and the pre-poll promises Muizzu made was just for cashing in on the sentiments of the Maldivian voters. The heavy dependence of Male on New Delhi for a range of reasons will not allow the atoll nation to go against India, as the previous president and now-incarcerated, Abdulla Yameen, had.
It may be mentioned that in one of his pre-poll promises, Muizzu had also vowed to free Yameen, who has been convicted of graft and money laundering and currently serving an 11-year jail term.
---