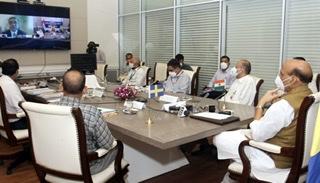 New Delhi: Defence Minister Rajnath Singh has invited Swedish firms to invest in the dedicated defence corridors of Uttar Pradesh and Tamil Nadu.
During a webinar on on India-Sweden Defence Industry Cooperation, Singh said that the Swedish companies can benefit greatly from the unique incentives being offered by Central and State Governments, along with the availability of a highly-skilled workforce in India.
He said that the bilateral trade and investment have grown from $3billion in 2016 to $4.6bn in 2019. The minister reiterated that both the countries have major scope for co-production and co-development.
The webinar was organised by Department of Defence Production and the Swedish Defence Materiel Administration, in partnership with the Society of Indian Defence Manufacturers (SIDM), Confederation of Indian Industry (CII) and Swedish Security & Defence Industry Association (SOFF) to further strengthen the bilateral relationship between the Indian & Swedish defence industry and identify potential areas for cooperation and collaboration.
The Webinar brought together the senior officials from both Governments and Industry and involved discussions on enhancing India-Sweden Defence Cooperation.
Swedish defence minister Peter Hultqvist reiterated that Swedish companies are tremendously benefitting from India in terms of skills, technicians and engineers.
He added that while India is also greatly benefitting from Sweden's knowledge and expertise, the scope of expanding defence cooperation must be deepened especially between SMEs.
He said," Through the combined efforts, both the countries can bring solutions to the problems of the future".
Tanmaya Lal, Ambassador of India to Sweden emphasised that India and Sweden are long-standing partners with Defence being an important area of mutual cooperation. Research, innovation and technological collaboration are the basis for India – Sweden partnership on joint global initiatives and industrial linkages.
Klas Molin, Ambassador of Sweden to India, stated that there is tremendous potential in business and defence sector cooperation with India as around 200 – 250 Swedish companies are already co-developing and co-producing with Indian partners.
Singh also unveiled the first edition of the 'SIDM Members Directory 2020-21' – A 360º Overview of the Indian Defence and Aerospace Sector'.
The Directory captures the capabilities of 437 companies in the Defence and Aerospace sector, facilitates ease of access to information on the Indian Industry and serves as a one-stop reference for the global defence community.
An MoU was also signed during the Session between the Society of Indian Defence Manufacturers (SIDM) and Swedish Security & Defence Industry Association (SOFF) to promote and strengthen the bilateral defence Industrial relations wherein a dedicated Joint Working Group will be formed to take forward mutual objectives.


---