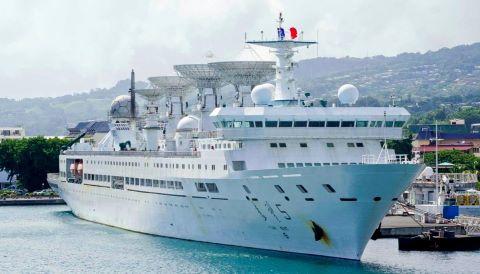 Chinese vessel Yuan Wang 5 | Photo Credit: brisl.org
New Delhi: Days after India raised concern with Sri Lanka over visit of Chinese ship near its maritime boundary, the Ranil Wickremsinghe administration has asked Beijing to defer its ship's visit to Hambantota port.
However, the island nation has granted permission to the China made Pakistani guided missile frigate PNS Taimur to make a port call at Colombo while on its way to join the Pakistan Navy in Karachi.
The development comes after Sri Lanka permitted the Chinese ship to arrive on August 11 at Hambantota.
The Chinese-built and leased Hambantota port in southern Sri Lanka was expecting the Yuan Wang 5 on Thursday for a five-day replenishing stop.
Currently, according to Refinitiv Eikon, it is cruising in the eastern Indian Ocean.
The Yuan Wang 5 is one of China's newest generation space tracking ships, designed to track satellite, rocket, and intercontinental ballistic missile launches, according to foreign security analysts.
According to the Pentagon, the Strategic Support Force of the People's Liberation Army controls the Yuan Wang ships.
New Delhi's concern is that India's neighbouring Hambantota could be used by China as a military base. The key shipping route from Asia to Europe is close to the $1.5 billion port.
---