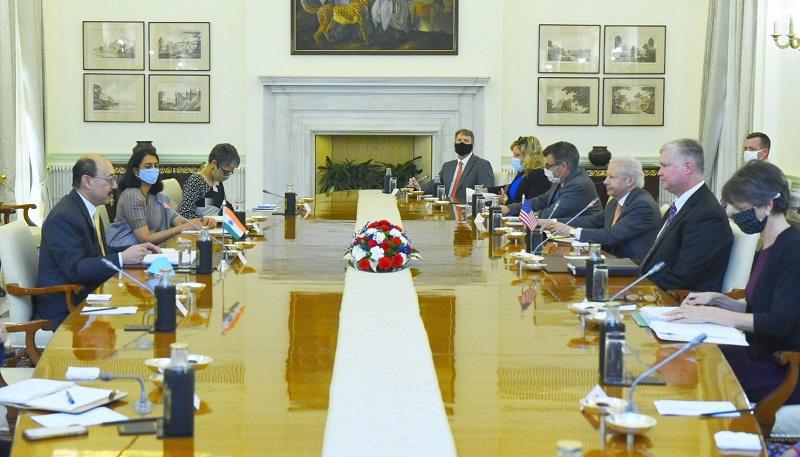 Harsh V Shringla, Stephen Beigun reviews India-US bilateral ties
New Delhi: India and the US reviewed the entire gamut of their engagements under the India-US Comprehensive Global Strategic Partnership during the three-day visit to New Delhi by US Deputy Secretary of State, Stephen Biegun, which concluded on Wednesday.
During his visit, Mr Biegun held talks with Foreign Secretary, Harsh Vardhan Shringla.
FS @harshvshringla met US Deputy Secretary of State Stephen Biegun for bilateral consultations over a diverse range of issues.

Highlighted convergences & shared interests between India-US.
Both sides reiterated their commitment to the Comprehensive Global Strategic Partnership. pic.twitter.com/IbiGa7ltbG

— Anurag Srivastava (@MEAIndia) October 13, 2020
Ahead of the US-India 2+2 Ministerial Dialogue later this year, they reviewed the entire gamut of engagements under the India-US Comprehensive Global Strategic Partnership, including political, security and defense, economic, commercial, technology and people-to-people contacts.
They exchanged views on a number of regional and global issues of mutual interest.
They discussed ways to strengthen cooperation in the United Nations, especially during India's membership of the United Nations Security Council for the period 2021-2022.
During his visit, the US Deputy Secretary of State also called on the External Affairs Minister Dr S Jaishankar and the National Security Advisor Mr Ajit Doval and discussed ongoing bilateral cooperation and exchanged views on developments in the region.
The US Deputy Secretary of State and Foreign Secretary participated in the inaugural session of Annual India-US Virtual Forum, a Track 1.5 Dialogue, and spoke about ongoing India-US cooperation to combat Covid-19 Pandemic and strengthen the bilateral relationship and cooperation in the multilateral fora.
Deputy Secretary Biegun's visit was an important opportunity to discuss various bilateral matters with a commitment to further strengthen the India-US Strategic Partnership.
Both sides look forward to continued high-level engagement on matters of mutual interest, including bilateral, regional, and global issues, External Affairs Ministry said.
Pleased to meet US Deputy Secretary of State Stephen Biegun. Useful exchange of views on world politics and regional issues. Appreciated the steady progress of our bilateral cooperation. Confident that our Strategic Partnership would continue to deepen. pic.twitter.com/PrnRMo90fC

— Dr. S. Jaishankar (@DrSJaishankar) October 12, 2020
At the India-US Forum, Deputy Secretary Stephen Biegun joined Foreign Secretary Harsh Shringla to underscore the importance of the US-India partnership, particularly in advancing a free and open Indo-Pacific.
The Deputy Secretary emphasized the work of the Quad toward a region protected and made prosperous in equal measure by strong and peaceful nations in the Indo-Pacific.
Deputy Secretary Biegun also underscored enhanced cooperation among the Quad to create resilient supply chains, promote transparency, and increase maritime security, topics most recently discussed in the October 6 meeting of Foreign Ministers attended by the US Secretary of State Mr Pompeo, according to a press release by the US State Department.
In his meetings with Dr Jaishankar, Mr Doval, Mr Shringla, and Defense Secretary Ajay Kumar, the Deputy Secretary discussed US efforts to work with India and like-minded partners on a range of issues including regional security, economic cooperation, and coordinated efforts to address the challenges of the COVID-19 pandemic.
---