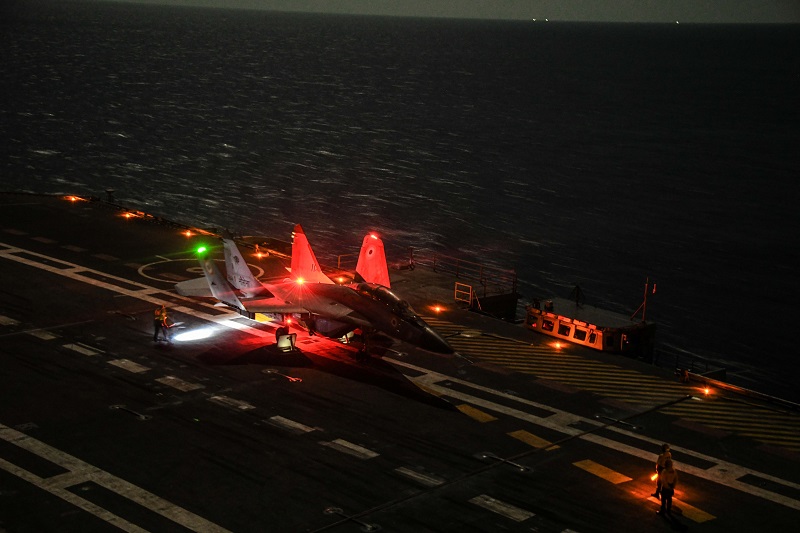 MiG-29K landing on INS Vikrant. (Photo: Indian Navy)
New Delhi: For the first time, Indian Navy's fighter jet MiG-29K has landed on homemade aircraft carrier INS Vikrant at night when she was sailing in the Arabian Sea, on Wednesday.
Landing at night on the aircraft carrier is considered as a significant step towards the warship becoming fully operational. By end of this year, it will be fully functional.
Commissioned in September last year by the prime minister, Narendra Modi, INS Vikrant is currently undergoing air certification and flight integration trials with rotary wing and fixed wing aircraft to achieve combat-ready state.
"The challenging night landing trial demonstrates the resolve, skill and professionalism of the Vikrant crew and naval pilots," navy spokesperson Commander Vivek Madhwal said.
In February this year, a MiG-29K and a prototype of the naval version of the indigenously developed light combat aircraft (LCA) landed and took off from INS Vikrant for the first time during daytime.
---
Read also: Third aircraft carrier -- Indian Navy all but junks IAC-2 project, now mulling over IAC-1 copy
---
The ongoing flight trials on board INS Vikrant involve the Russian-origin MiG-29K fighter jets that use the ski-jump to take-off, and are recovered by arrestor wires or what is known as STOBAR (short take-off but arrested recovery) in navy parlance.
INS Vikrant will be manned with indigenous twin-engine deck-based fighter (TEDBF). It is expected to join the service by 2032 as the first prototype of TEDBF could make its maiden flight in 2026.
As an interim measure, as per the report, the Indian Navy is looking for French-origin Rafale (M) for its carrier. It has edged out the American F/A-18 Super Hornet in a direct competition to equip the Navy with 26 new deck-based fighters for INS Vikrant.
---
Read also: Rafale (M) or F/A-18 Super Hornet for INS Vikrant?
---
Dassault Aviation makes the Rafale fighter aircraft while the Super Hornet is a Boeing product.
In January last year, Rafale (M) had demonstrated its capabilities at a shore-based test facility in Goa while the Super Hornet in June same year.
---
Read also: 'Historic milestone' -- LCA and MiG-29K fighters begin flight trials from INS Vikrant
---
The Navy will procure 26 jets just for a stopgap until the country develops its own TEDBF.
Vikrant, which has 76 per cent indigenous content, will operate an air wing consisting of 30 aircraft including the new fighters, MiG-29Ks, Kamov-31 choppers, MH-60R multi-role helicopters, and advanced light helicopters.
The 45,000-tonne Vikrant was built at Cochin Shipyard at a cost of Rs 20,000 crore.
Only the US, the UK, Russia, France and China have the capability to build aircraft carriers this size.
It has been named after aircraft carrier INS Vikrant, which was operated by the navy from 1961 to 1997.
It is 262 metres long, has a height of 61 metres (keel to mast) and its flight deck measures 12,500 square metres (equivalent to 10 Olympic-size swimming pools.)
The ship has an endurance of 7,500 nautical miles, a maximum speed of 28 knots, 2,300 compartments and can carry a crew of 1,600.
---
Read also: Anthony Albanese, Australian prime minister, visits INS Vikrant
---
---