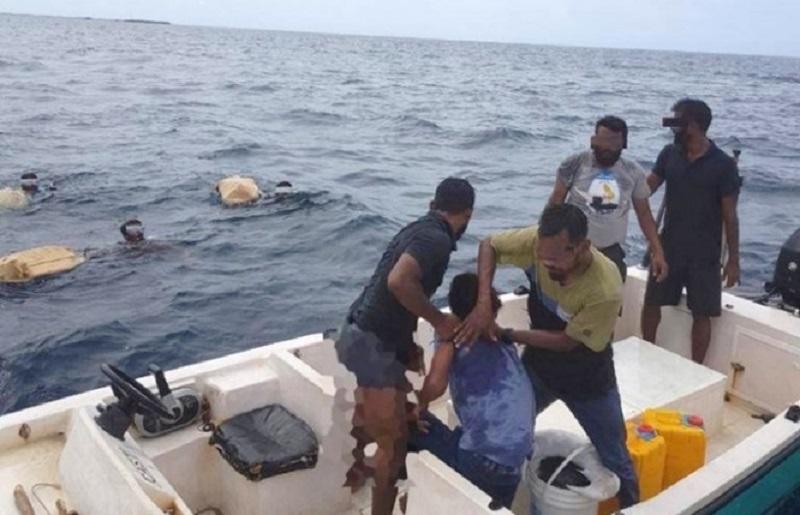 New Delhi: India recently delivered a Dornier maritime patrol aircraft to Maldives to be used in keeping Maldives' vast Exclusive Economic Zone (EEZ) under surveillance. The aircraft will be used by the Maldives National Defence Force (MNDF).
On October 1, nearly 100kg of MDMA, Heroin and Amphetamines were seized in the sea off Southernmost Addu Atoll. It shows how unregulated waters can be used for illicit activities.
The newly acquired Dornier aircraft will now be a key asset for monitoring such activities in the Maldives' EEZ.
While India and Maldives are increasing ways to engage and prosper, Pakistan has been busy enhancing its drug trade in Maldives.
In September this year, four Pakistani nationals were arrested at the Malè International Airport for carrying Heroin, hidden within their bodies inside 81 large capsules.
However, Mohamad Warsi, Ahsan Hassan, Abdul Hassan and Mohamed Baaiq are certainly not the first Pakistanis to engage in drug trade in the archipelagic country.
Pakistan's notorious Anti-Narcotics Force (ANF) has a long history of being hand-in-glove with drug cartels of the Golden Crescent.
On April 1, the Sri Lankan Navy announced on their official twitter handle "Navy brought seized foreign vessel ashore along with 605kg of #CrystalMeth (Methamphetamine) and 579kg of #Ketamine (anesthetic used as a recreational drug). The 9 crew members were found to be Pakistanis". This vessel was apprehended 800km from Sri Lanka whilst transiting towards a point between Sri Lanka and Maldives, for trans-shipment of the contraband towards South-East Asia, a lucrative market.
This public denouncement by the Sri Lankan Navy flustered the Pakistani Deep State, and especially the Pakistani Navy.
Just 48 hours after the seizure by the Sri Lankan Navy, on April 3, the Pakistani Navy betrayed their connivance by announcing seizure of 100kg of Methamphetamine from 'a boat at sea near Baluchistan'.
Coming on the heels of the Sri Lankan Navy's disclosure, this amateurish action smacked of the Pakistan Navy's guilt.
Preposterously, in another 'drug-bust' on April 11, nearly 700kg of heroin and 80kg of cocaine was also seized by the ANF at Port Qasim International Container Terminal near Karachi.
Such theatrical displays of 'professionalism' and self-righteous indignation are reminiscent of the half-baked actions of the Pakistani Deep State against the likes of Hafiz Saeed and Masood Azhar, in the run up to FATF meetings.
Therefore, when the tarnished ANF claims that they had provided timely intelligence to Maldives which aided in the Addu Atoll drug-bust on 1 October, one is overcome by a sense of déjà vu.
This false claim was quickly rebutted on October 4 by the Chief of Maldives' Police Service Mohamed 'MC' Hameed, who rubbished these claims. The Pakistani Deep State and ANF, eager not to be implicated in the drug-bust, once again revealed their connivance in the drug trade.
The growing number of apprehensions of drug-laden vessels emanating from Pakistan is indicative of a strong nexus between their maritime security agencies and drug cartels.
In a similar operation on 5 March this year, the Sri Lankan Navy had seized another Pakistani vessel with 500kg of heroin and 100kg of methamphetamine.
Reports also indicate that over 70 Pakistani nationals have been arrested on the high seas in the past four years for smuggling large quantities of drugs, especially off the coasts of India, Sri Lanka, Maldives, Seychelles, Tanzania, Kenya and Mozambique.
The Pakistan Navy and Pakistan Maritime Security Agency (MSA, equivalent to Coast Guard), far from being guardians of their maritime zones, are complicit in its misuse for profiteering.
The world is well aware that smuggling large quantities of narcotics through a supposedly well-defended Pakistani coastline would certainly not be possible without aid and abetment of the maritime security agencies of Pakistan.
Incidentally, Sri Lanka also harbours deep suspicions that the Easter Sunday bombings which ravaged their nation in 2019, were funded by Pakistan-based drug cartels.
The US-Taliban peace deal signed earlier this year has also been a shot in the arm for the drug cartel-Pakistan military nexus.
Pakistan's military, already renowned for their MILBUS (military business ventures) is known to provide safe haven for smuggling narcotics through land routes in Baluchistan and trans-shipment from Gwadar (which is controlled by the Pakistan Navy).
It is an open secret in Islamabad and Rawalpindi that profits from illicit drug trade are funneled towards upkeep and radicalisation of Pakistan's terrorists and to fill the pockets of military officers in the Pakistani Deep State.
With their Navy engaged in shooting amateurish documentaries to keep up their morale, the Pakistani Deep State is using the porous maritime borders to push its drug trade, while the Anti-Narcotics Force tries to provide plausible deniability.
---