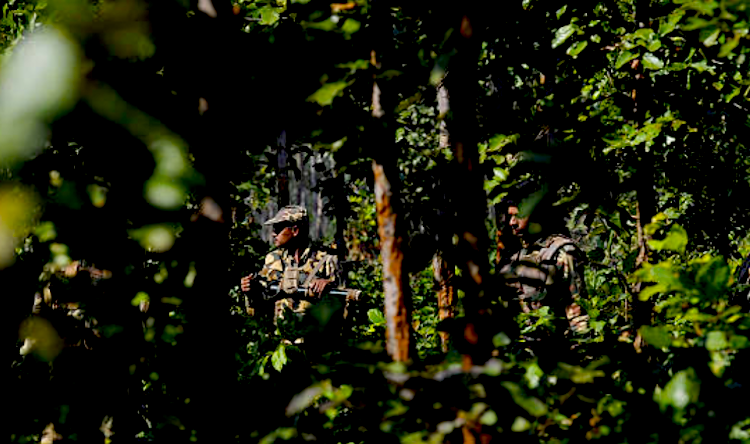 CRPF jawans in an anti-Maoist operation in West Bengal.
The Indian Express carried an op-ed by Mutha Ashok Jain, on September 9, titled "Practice of reserving cadre posts for certain services is exclusionary, must be reconsidered" made for an interesting reading. The article has been apparently written in support of induction of an IPS officer as principal secretary (transport) of Haryana appears to advance the cause of opening of the IAS cadre posts for people from other cadres because "this has resulted in exclusionary behaviour by all services to keep members of other services away."
The article takes the "generalist" vs "specialist" debate in the bureaucracy further and appears to favour a generalist approach. In contrast, the central government has implemented the scheme of inducting people from various fields of specialization at the level of joint secretary. However, the scheme doesn't appear to have found favours even with the IAS fraternity.
While the thrust of the argument of the author seemingly favours opening various positions for services other than IAS in the ministries may have some merit, his reference to the ongoing litigation by the officers of central armed police forces (CAPFs) against the reservation of top policy and supervisory level posts in these services for IPS officers needs to be debated.
All the posts in these services being operational posts, the orientation of entire chain of command must be towards operations. Therefore, the argument for continued appointment of officers from other services in these forces can no longer be justified.
The editorial brings out an interesting concept of the proverbial "glass ceiling" by which it is implied that the capable officers of different services attain varied experience during their career, and further implies that it would be wise not to restrict them within their own service or cadre. It will be wise to utilize their varied experience in other cadre posts through lateral movement.
It would be interesting to analyse the effect of the "glass ceiling" in reference to the cadres of CAPFs.
The effect is extremely pronounced in case of officers of these CAPFs, like the Central Reserve Police Force, Border Security Force, Indo-Tibetan Border Police, Sashastra Seema Bal, etc. More than 50% of the higher supervisory and policy level posts are not available to these officers as they are reserved for the IPS officers on deputation. Thus, the rich experience that these officers gain in the field is not available to these forces and the nation at large for formulating policies which will enhance operational efficiency of these forces because most of the officers superannuate at middle rungs.
---
Read also | IPS officers vs CAPF officers: Unseemly tug of war
---
The "glass ceiling" effect further effects the avenues of these officers negatively because of the total absence of avenues of lateral movement, even though they acquire several skills during their long service. For example, the experience of these officers in command of large body of troops can be gainfully utilized for supervision of state armed forces at higher supervisory levels. Further, all these forces have well-organized intelligence setup, including technical intelligence capability. The border-guarding forces, in addition, have been designated as "lead intelligence agencies" and made responsible for coordinating the intelligence effort of different agencies operating in their respective area of responsibility.
This capability of CAPF cadre officers can also be gainfully utilized at supervisory levels in various state and central intelligence agencies. The officers of these cadres work in close coordination with civil authorities in identifying the developmental needs of border areas for implementation of border area development programmes. This experience can be gainfully utilized in formulating policies for socio-economic development of border areas.
The view of author that "many people outgrow their cadre specialization and attain varied experience through their service" is thus applicable in equal measures to the officers coming from CAPF cadres and their lateral movement as suggested above will be in national interest as it will provide government with a larger pool of experienced officers to select from.
The "all-India services", like the IPS, do not face the "glass ceiling" within their own cadre because of rapid assured elevation to highest levels. They also have multiple opportunities available for lateral movement within the states as also in the central government.
As rightly brought out in the editorial, "every service has a core role for which it has been trained". Hence, subjecting the CAPF cadre officers to "glass ceiling" within their own organizations as also in absence of any avenues for lateral movement is not in the interest of national security.
Double jeopardy occurs when the IPS officers not experienced in core function of these forces are inducted at higher levels. Resultantly, they find themselves out of depth and focus on perfunctory activities. Their inexperience and lack of priorities for strengthening the core competencies of these organisations manifests itself in several ways, like the operational failure of the type witnessed on April 3 in Chhattisgarh, which is solely attributable to lack of planning and intelligence. Low priority being accorded to training in these forces is a typical import of police ethos.
---
Read also | Leadership of security forces is failing nation to control Maoists
---
The plethora of litigation relating to personnel matters and heavy stagnation at all levels is because of faulty policies of personnel management due to lack of continuity as these IPS officers come to these organizations for a limited tenure. The focus is therefore on firefighting rather than focussing on long-term policies. Only the officers of the cadres of these forces, having worked their way up from the ground level can have knowledge of the role, ethos and operational philosophy of these organizations and must have avenues for advancement within as well as outside their organizations.
Several interesting points raised by the author need to be brainstormed to improve functioning of bureaucracy as well as the armed forces involved in ensuring security of India. The policymakers in the corridors of power need to address these issues urgently.
---
Disclaimer: The views expressed in the article are the author's own and don't necessarily reflect the views of India Sentinels.
---
© India Sentinels 2021-22
---