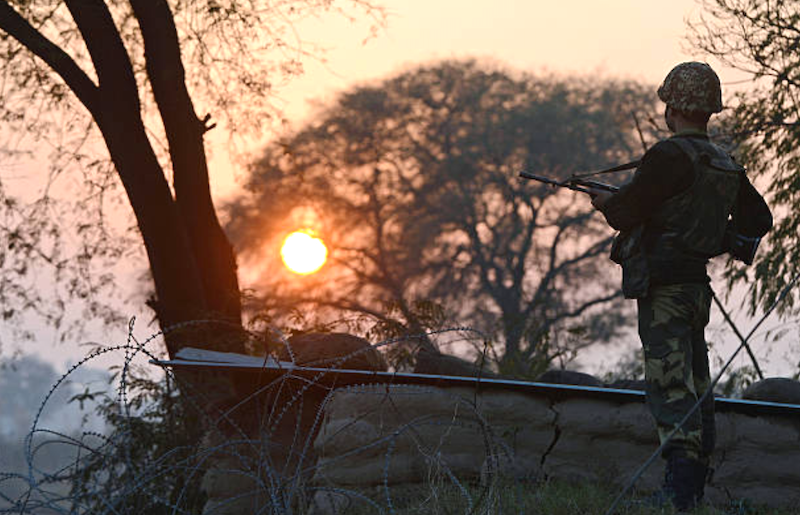 A BSF jawan stands guard at a border outpost in Jammu.
The government of India, after procrastinating for five months, has finally appointed a director general for the Border Security Force. However, this largest border-guarding force of the world, which is responsible for guarding almost 7,000 kilometres of border with Pakistan and Bangladesh, will be deprived of the exclusive attention of Rakesh Asthana because he will also hold concurrent charge of Narcotics Control Bureau. Appointed for eleven months till he superannuates, Asthana may in fact leave much earlier if he is shifted to CBI after retirement of present incumbent.
It looks like as if these forces have no relevance in the government scheme of things, otherwise the government would have appointed a full-time leader exclusively to head them. Even earlier, after Vivek Johri (who was the director general for about seven months) moved to Madhya Pradesh in March, the DG Indo-Tibetan Border Police, Surjeet Singh Deswal, was holding the additional charge of the BSF for five months. A couple of years ago, the CRPF too had remained headless for a prolonged period.
Asthana has no experience of ever serving in the BSF. Probably, he doesn't have any experience of ever serving any other central armed police force either. This has been true for several of the previous incumbents resulting in actions far removed from the organizational ethos and operational requirement of these forces which are the mainstay in the security matrix of the country.
Nothing can be more symptomatic of the awry priorities of such temporary leaders than the last few action-packed months. Deswal, a fitness enthusiast, appeared to have no concern for operational preparedness either of the BSF or the ITBP. All his energies were focussed on assessing the physical fitness and stamina of personnel of these forces even while China in Galwan (where the ITBP is deployed) and Pakistan along the line of control (LoC) in Jammu & Kashmir (where BSF is deployed) continued to display their aggressive designs.
It is beyond doubt that the personnel of armed forces should not only be physically fit but also appear to be so. However, there appears to be something drastically wrong in the method adopted and the time chosen by Deswal to implement his single-point agenda bordering on idiosyncrasy. Notwithstanding the importance of physical fitness, making a fetish out of it at the cost of operational preparedness and by ignoring the Covid-19 protocols is indicative of misplaced priorities.
Hindi daily Amar Ujala recently carried a report about a fitness programme for senior officers, mostly aged around 55 years. The report brought out that the entire exercise involved huge expenditure in this time of the Covid-19 epidemic when the government is battling with severe financial constraints.
Such fitness programmes were also conducted for subordinate and lower ranks at different training centres all over the country. One constable (cook) lost his life during one such programme.
In persisting with his ill-conceived and ill-timed obsession, settled principles of medical profession, like that tell us that sudden loss of weight may lead to cardiac problems and other health issues, were flouted. The death of the constable mentioned above is undoubtedly attributable to that. However, the medical officer who issued the medical certificate is now at the receiving end and likely to be blamed for the death, although he had clearly mentioned the fact – for several years – that the jawan was of low-medical category and had declared him unfit for to undergo programmes that involve heavy physical strain.
That causes of obesity could range from genetic to metabolic disorder to dietary and lifestyle issues was given a go-by. Proper assessment of specific cause in case of each individual by medical officers could have helped plan better modules and prevent unnecessary expenditure and tragic loss of life.
Even the tragic death and some well-meaning advise failed to dissuade Deshwal from continuing with his "mission" – as a man possessed.
Relegating operational supervision to second priority, during his visits to Rajasthan and Gujarat, Deswal preferred to collect all available officers and take them all on long route marches. He even took the mantle of supervising the routine "field physical efficiency" tests of all officers posted at the BSF Headquarters – an event which in the normal course would be carried out by an officer many notches below his level. That officers of the force are fit in all respects is apparent from the fact that except for eight, all the remaining 150 or so officers who participated, qualified the rigorous test with ease. This also is a reflection of misplaced emphasis placed on this aspect by him.
Another aspect that was overlooked in planning these training programmes and events is that it involved lot of movement of troops and enhanced threat of spread of the novel coronavirus. In one instance, several BSF personnel arriving for such physical fitness programme were turned back from Imphal Airport by the Manipur government because they were found to be infected with Covid-19.
The quarantine protocols for conduct of these and other training programmes were ignored.
Resultantly, several establishments, including many training centres had large number of Covid-19-positive cases, which compelled the respective civil authorities to declare them as containment zones. Therefore, it comes as no surprise that the coronavirus-positive in the BSF are much above the national average.
It is the travesty of our systems that forces that have significant role in the security system of our country are led by transient leaders at various levels. Not possessing the core competence to lead them, they indulge in gimmicks and grandstanding with each having their own agenda, which have nothing to do with enhancing operational efficiency. Deswal can perhaps therefore not be faulted in choosing his own methodology to assert his leadership.
Is it not, therefore, the time for the government to implement the recommendations of various expert bodies including the parliamentary committee which recommended inclusion of officers of original cadres of these forces in the panel of officers to be considered to lead them?
---
[Disclaimer: Views expressed by the author are his own and don't necessarily reflect the views of India Sentinels.]
---