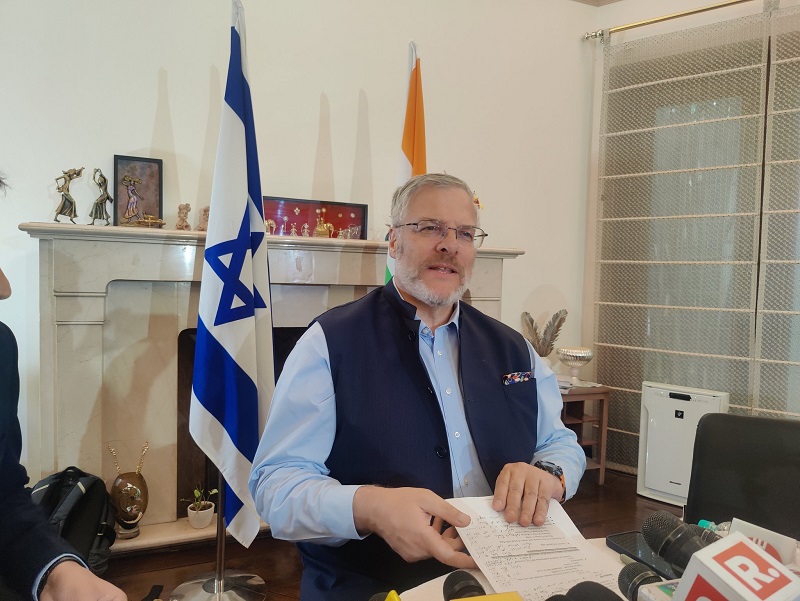 Israeli envoy to India Naor Gilon (PC: Twitter)
New Delhi: Expressing confidence in Gautam Adani-led Adani Group, the Israeli ambassador to India, Naor Gilon, on Wednesday, said that the handing over of Haifa Port to Adani company is a symbol of deep trust between two countries.
Naor Gilon said, "We are happy with this."
On Adani investment in Israel
On the Adani Group's investment in Israel, Gilon said there are joint ventures with 80 Indian companies, and all are private. they are not pushed by Israel government. The Adani Group has paid in full for the port of Haifa and there is money for development. He also said port infrastructure is an important part of Adani Group. It is a strategic asset and will be beneficial for India as well.
"Adani Group is also looking for more projects in Israel and I hope they get it. We want our friends to be close by. We are very comfortable with India," the Israeli ambassador said.
Last month, the Adani Group entered Israel with acquiring Haifa port, a deal described as an "enormous milestone" by the Israeli prime minister, Benjamin Netanyahu.
The Haifa port is the second-largest port in Israel in terms of shipping containers and the biggest in shipping tourist cruise ships.
A consortium of Adani Ports and Special Economic Zone (APSEZ) and Israel's Gadot Group won the tender in July last year to privatize the Haifa port for $1.18 billion. The Adani Group has no holdings in the West. Its entry into Israel is a signal for increased maritime traffic between Asia and Europe, and the major Asian players' need for a hub in the Mediterranean.
Israeli PM Natanyahu's India visit
"We are working on PM Netanyahu's visit to India. Hopefully, the visit of our foreign minister to India will be coming up soon," Gilon said.
India-Israel 30 years of diplomatic relations
India is rising beyond being a regional power to become a world power. On the completion of 30 years of Israel-India diplomatic relations, we have launched a Centre for Excellence in Haryana.
A Free Trade Agreement (FTA) between Israel and India is a priority for both sides, he said.
On Make in India
"In a perfect world, we would not sell our systems. But why do we sell? Expenses on defence are huge, the idea of selling is reducing the cost. When you export machine, it's one thing, you are vulnerable to reverse engineering. In 'Make in India', you give knowledge," he said.
"Capacity here to manufacture will be value added to other export destination," he added.
On India-Palestine relations
On the India-Palestine relations, Gilon said, "India has a foreign policy of de-hypertension, it has been a game changer'. Other copied it, very practical ... kudos to India for leading such a pragmatic policy."
"India and Israel working on trilaterals, working in third countries on agriculture, humanitarian," the Israel ambassador said
"India is a wonderful place to be.. our relations are defined as strategic partnership ... good opportunity to congratulate India for G20, SCO Presidency," he said.
"People have a fascination for Israel in India. Young Israelis, when they finish military service, they come to India," Israeli ambassador said.
The India, Israel, United Arab Emirates, United States (I2U2) group is meeting in the United Arab Emirates, on Wednesday.
---