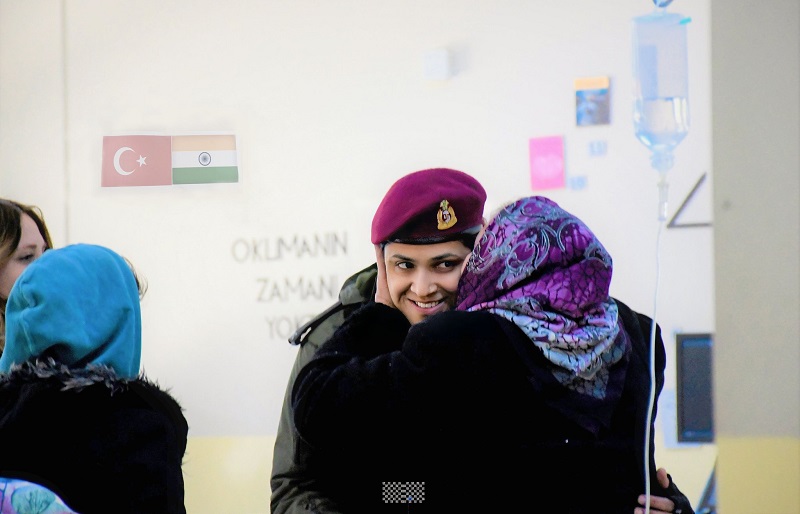 An Indian Army officer with an earthquake victim in Turkey
New Delhi: As part of its humanitarian assistance, India had launched "Operation Dost" to help earthquake victims in Turkey over a week back. India sent an Indian Army medical team and NDRF team to assist the quake-hit country.
During their course of stay in Turkey, Indian Army Field Hospital treated over 3,600 earthquake victims in Hatya province.
The Indian disaster relief team, comprising 99 personnel of Indian Army's 60 Para Field Hospital and National Disaster Response Force (NDRF) returned home on Monday after putting in a stupendous effort to provide medical relief to disaster victims in Hatya. The effort has been applauded both at the national and International levels.
The Army field hospital has treated 3,604 casualties, providing emergency medical care and performing 04 x major surgeries, 63 x minor surgeries, 343 minor procedures including 87 x POP applications for fixing fractures.
The field hospital comprising of 99 personnel including various specialist medical officers and paramedics, established their Hospital at Iskenderun, Hatay, on February 8, which included a fully functional OT and trauma care centre.
The specialists include medical specialist, surgical specialists, anaesthetists, orthopaedicians, maxillofacial surgeon and community medicine specialist for rendering medical assistance to earthquake victims.
Beside this, a lady medical officer has also been sent for rendering medical care to female patients/casualties. In addition, the field hospital provided dental treatment to 242 patients, carrying out 283 precautionary X-rays on trauma victims.
14 x patients were admitted and 97 x patients detained and treated. 1,159 lab investigations were carried out on the cases reported for treatment. Replenishment to the field hospital has been provided by Indian Army in the form of medical and surgical bricks as well as orthopaedic equipment.
The team has also set up a reception desk for receiving donations and distribution to the needy.
---