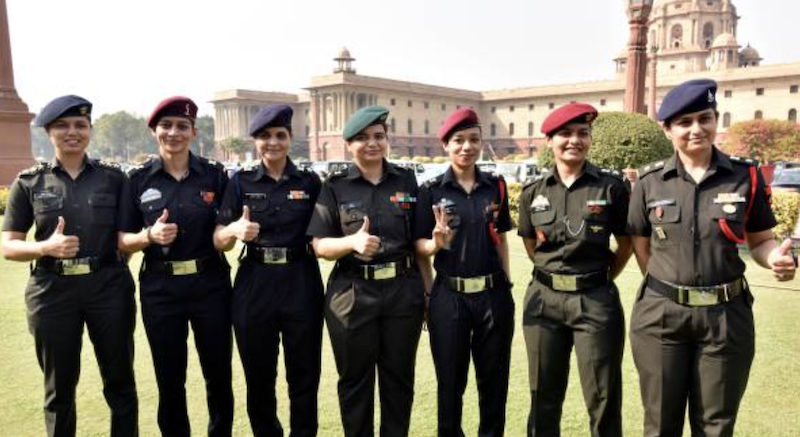 Photo via Twitter for representation.
New Delhi: The Indian Army has cleared the path for women officers to take command posts in the rank of colonel in a bunch of arms and services, officials in the defence establishment revealed to media. According to the officials, the Army is conducting a special selection board (Women Officers Special No. 3 Selection Board) from January 9 to January 22 for their promotion from the rank of lieutenant colonel to colonel.
This move will bring the women officers at par with their male counterparts in the Army's Corps of Engineers, Corps of Signals, Corps of Army Air Defence, Intelligence Corps, Army Service Corps, Army Ordnance Corps, and Corps of Electrical & Mechanical Engineers.
Currently, 244 women officers from 1992 batch to 2006 batch are being considered for promotion to fill 108 vacancies. The government released these vacancies to promote the affected women officers to ensure gender parity in the service.
To ensure fair conduct and clarify any apprehension, 60 affected women officers have been called as observers for the selection board.
After the selection process, 108 women officers, who are declared fit to assume command roles, will be posted on various command assignments. The first set of such postings will be issued by the end of January.
---
Read also: Army begins process to grant permanent commission to women
---
Women officers are already serving in various operational theatres of the Indian Army. With an aim to provide equal opportunities to women with respect to their male counterparts, the Indian Army has granted permanent commission to women officers.
All women Army officers granted permanent commission are undergoing special training courses and challenging military assignments to empower them for higher leadership roles in the service.
---
Read also: In a first, six women Army officers clear DSSC examination
---
It may be noted that in November 2022, for the first time, five women officers have cleared the prestigious Defence Services Staff Course (DSSC) and Defence Services Technical Staff Course (DSTSC) exams, which are held annually in September. The five officers will undergo a one-year course, which will give them adequate weightage while being considered for command appointments.
Women officers are already serving as combat aviators, engineers, and other arms and services of the Army, as mentioned above. One officer is also deployed in the world's highest battlefield – Siachen. Soon, women officers will be inducted into the Corps of Artillery.
---
Read also: Army moves to induct women officers in its artillery regiments
---
The Army recently deployed a team comprising two women officers and 25 women soldiers to the strife-torn Abyei region between South Sudan and Sudan in Africa to provide relief and assistance to women and children in one of the most challenging operational and terrain conditions under the United Nations flag.
---