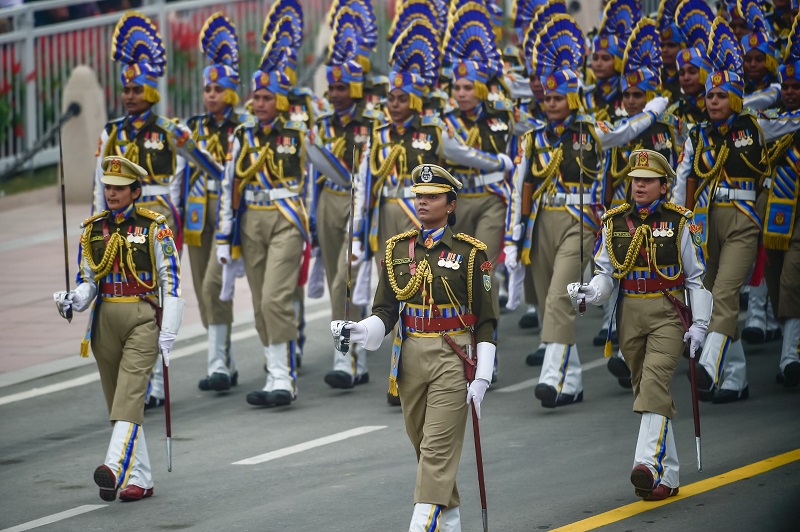 CRPF troops participating in Republic Day parade 2023
New Delhi: India's central armed police forces or paramilitary forces have been facing acute shortage of manpower with the Central Reserve Police Force topping the list among the six forces, the government informed Parliament, on Thursday. In reply to BJP leader Sushil Kumar Modi's question, the junior home minister, Nityanand Rai, said that the recruitment is being undertaken in mission mode to fill up the vacancies and it is planned to complete it in 2023.
---
Read also: Story of BSF's key role, valour and sacrifices in 1971 India-Pakistan war
---
As on January 1, 2023, a total of 83,127 posts were vacant in the CAPFs and the Assam Rifles against the total sanctioned strength of 1,015,237. The shortage of manpower since 2019 stands at 8 per cent of the total sanctioned strength, Rai added.
He also stated that between July 2022 and January 2023 a total of 32,181 personnel were recruited in the paramilitary forces. Further, 64,444 vacancies have been notified and are at different stages of recruitment.
The CRPF, the country's largest paramilitary force, which has a sanctioned strength of 324,093 personnel, has the maximum number of vacancies with over 29,283 posts.
---
Read also: Efficiency of CAPFs suffering from 'glass ceiling' effect
---
The CRPF is mandated to enable the government to maintain rule of law, public order, and internal security effectively and efficiently, to preserve national integrity and promote social harmony and development by upholding supremacy of the Constitution.
Apart from the CRPF, the Border Security Force and the Central Industrial Security Force have the highest number of vacancies at 19,987 and 19,475, respectively against their sanctioned strength of 263,931 and 155,254, respectively.
BSF is a border-guarding organization deployed along the borders with Pakistan and Bangladesh while the CISF is mandated to provide security to industrial units, government infrastructure projects and facilities, and other senstitive establishments located across the country.
The Sashastra Seema Bal has a vacancy of 8273 posts against sanctioned strength of 99,212 personnel while the Indo-Tibetan Border Police has 4,443 vacant posts against sanctioned strength of 89,438 personnel.
---
Read also: Modernization and reforming our border-guarding forces
---
The SSB is a border guarding force deployed along the borders with Nepal and Bhutan while the ITBP is deployed along the border with Tibet Autonomous Region.
Assam Rifles has the least number of vacancies with 1,666 posts waiting to be filled in. It has a sanctioned strength of 998,510 personnel. It is responsible for border security, counterinsurgency, and maintaining law and order in northeast India and guards the India-Myanmar border.
---