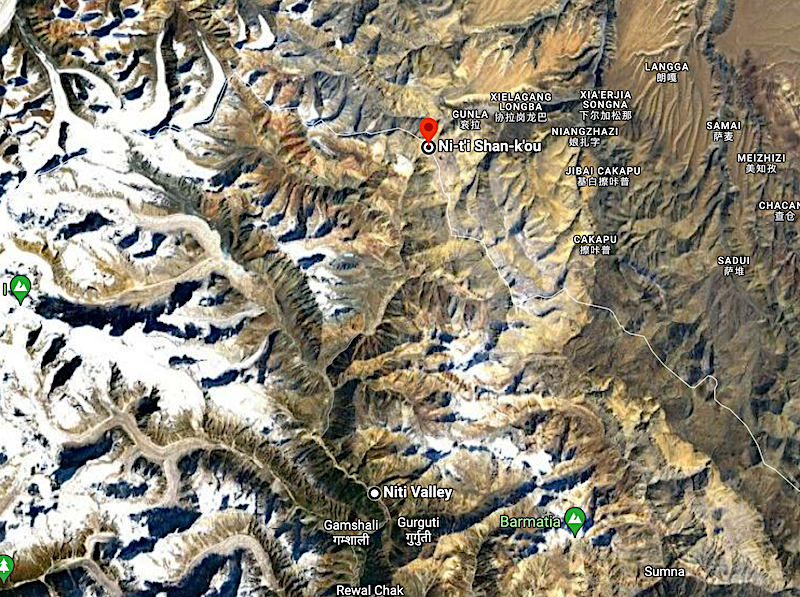 The red pin in this Google Earth satellite image shows the Niti pass. The white line is the LAC.

New Delhi: China has now started building up pressure on India in the middle sector on the disputed border between the two countries, which is also known as the line of actual control or LAC. According to sources in the defence ministry who didn't want to be named, China has been building new camps for troops and developing new infrastructure just across the LAC near Niti pass in Uttarakhand.
According to the sources, China has built helipads and a new link road in Sarang and Poling Jindu across the LAC near India's Niti pass. They also said China's People's Liberation Army has also constructed new camps, which can house more troops in the area. They said the camps have been constructed near the Niti pass and Tunjun pass just across the LAC.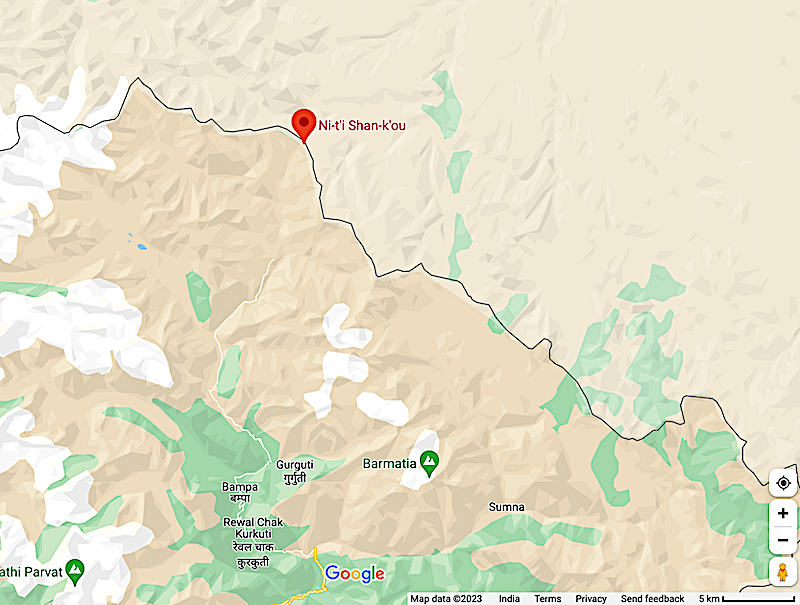 The red pin in this Google Maps image shows the Niti pass. The black line is the LAC.
This area falls under the middle sector. Already, Indian and Chinese troops have been locked in a tense stand-off at several points along the LAC eastern Ladakh, which is in the northern sector, for nearly three years. The Galwan valley in eastern Ladakh saw a deadly fist-and-clubs skirmish between troops of the Indian Army and PLA troops in June 2020, in which at least 20 Indian soldiers were killed in action while an unknown number of soldiers have also perished.
In the eastern sector, Indian and Chinese troops have been aggressively patrolling along the LAC, especially in the Tawang region. The sector has also witnessed clashes between the troops of the two countries occasionally, although no soldier from either side has reported to have died, so far.
Compared to the northern and eastern sector, the LAC in the middle sector remained more or less uneventful with rare reports of Chinese troops crossing the border into Indian territory and then going back. However, the sector has been witnessing heightened Chinese activities after the Galwan clash, especially in the Barahoti area.
It may be noted that China had objected to India conducting a joint annual army exercise, "Yudh Abhyas", with the United States at Uttarakhand's Auli, which is barely 100 kilometres from the LAC, in December 2022. At that time, India reminded China that India had the right to conduct military drills anywhere within its territory and told Beijing it had unilaterally violated several agreements it signed with New Delhi to maintain peace along the disputed border.
---